Food Safety and Compliance System (FoSCoS)
Food Safety and Compliance System (FoSCoS)
As part of the efforts to ensure ease of doing business for food companies, the Food Safety and Standards Authority of India (FSSAI) have launched the Food Safety and Compliance System (FoSCoS). The FSSAI vide its notification dated 28th May 2020 has also informed that FoSCoS will replace the existing Food Licensing and Registration System (FLRS). This upgraded cloud-based online food safety compliance platform conceptualized to provide multiservice for Food Business Operator (FOB), such as granting licenses and registration to FOB, and other regulatory compliances services.
The gist of FSSAI Notification
Food Safety and Standards Authority of India (FSSAI) have upgraded from FLRS to FoSCoS to make food business services easy and better for Food Business Operator.
In the first phase, FoSCoS will be launched in nine States and Union territory including Gujarat, Goa, Delhi, Odisha, Tamil Nadu, Chandigarh, Puducherry and Ladakh.
FoSCoS replaces the existing online Food Licensing and Registration System and users of these States/UTs are now required to visit the official website of FoSCoS and login through same user ids and passwords for any services.
Food Business Operators having License/Registration of premises at Indian Railways and concerned Authorities are required to operate at Food Licensing and Registration System (FLRS) till further announcement.
Food Business Operators (pan-India) will continue to receive Consumer Grievances and shall respond to these in a time-bound manner at FLRS only.
Note: FBOs and Authorities are required to visit FLRS regularly for Consumer Grievance Module until its upgraded version is developed in FoSCoS.
By next month, the food licensing process in all other States of India will be done through FoSCoS, as the older licensing platform will be disabled. The new integrated platform will be gradually rolled out across all other States.
The objective of the FoSCoS
Basic objectives of the Food Safety and Compliance System (FoSCoS) is as follows:
To create a district and state wise food safety Compliance matrix of the country
FoSCoS is developed to create a Food safety compliance verification platform.
For reducing the time of the Inspection process and action initiated.
This platform is launched to build a transparent system within the inspections framework.
For creating a platform to authenticate and validate the inspection reports.
To ensure that the inspections are done and without any deviations.
The process framed in the FoSCoS shall initiate Quick Response during the Food Safety Emergencies.
Enhanced and New features of the FoSCoS
The following are the Enhanced and New features of the FoSCoS :
Enhanced processing speed along with higher user traffic handling capability and a scalable system architecture that can support future upgrades and addition of modules.
FoSCoS to be one-stop Food Safety Compliance Portal designed to support integration with other FSSAI Applications.
The paradigm shift in Licensing for Manufacturers with the selection of Standardized Products rather than entering details in text boxes.
A User-friendly and self-intuitive Home page providing smart search options for License Eligibility criteria and Standardized Products.
New module for filing Annual Returns online, rather than having to send them manually.
Inspections reports (from FoSCoRIS) now available in FoSCoS for seamless operations.
Kind of Business (KoB) specific list of required documents to be uploaded, instead of all 29 shown earlier. Also, with Tick box based online declarations, no need to upload signed documents.
Clearer segregation of Kind of Business (KoB) in FoSCoS, for example, Nutraceuticals and Novel foods have been added as separate categories under Manufacturing.
FoSCoS application form captures PAN Number, CIN Number and GST Number which can provide authentication and 360-degree profiling of FBO's in future.
The improved menu list and Dashboards for Licensing and Registering Authorities aligned with different Application Stages and related pendency.
This new integrated platform will enable licensing, registration and filing of annual returns regulatory and compliance functions at a single platform.
Services Offered
The following services are offered to Food Business Operators in the FSSAI's newly developed platform:
Registration for Petty Food Business Operators
License for Restaurants
License for Food Manufacturing including Renewal and Modification
Endorsement of Fortified Food Products on License/Registration
Quarterly Return for Exporter
Transfer a License
License for Proprietary food
Respond to a Reverted Application
Endorsement of Organic Food Products
Surrender of license
License for Mid Day Meal, E-Commerce, Airport & Seaport
License for Food product Exporters and Importers
License for business Head Office
Registration for Petty FBO
This is the new feature incorporated in the FoSCoS application. This feature has been enabled for small businesses like hawkers, roadside vendors, etc. The Petty FBO can register in the FoSCoS and get registered for their business.
FoSCoS Methodology for Granting Licensing for Manufacture
This new platform of the FoSCoS will have the same flow as similar to earlier platform FLRS, the paradigm change it that the shift FoSCoS Methodology of Licensing for Manufacture. The license will be issued based on the standardized product list. This new approach of issuing a license is only for manufactures of specified products.
For the manufacture of supplements, nutraceuticals, proprietary food and substances added to food need to follow the same procedure as in FLRS.
All other types of food business such as Catering, transport, storage need to follow the broad category approach as described in the FLRS.
Filing of Annual Return
Along with the food safety compliance platform, the FoSCoS is designed with a provision for filing Annual return online. The return for the financial year 2019 to 2020 can be filled online through the FoSCoS.
Eligibility Criteria for Food Business Registration
To know about the eligibility criteria for Food Business, kindly go through the document attach ached here:
KindofBusinessEligibility

Fee Structure
| | | |
| --- | --- | --- |
| Sl.No | Details | Fee |
| 1 | Manufacturing License | Rs.2000 to 7500 per year |
| 2 | Registration Certificate | Rs.100 per year |
| 3 | Modification of License and Certificate | Rs.1000 for license and Rs.100 for registration |
| 4 | Renewal of License and Certificate | Same as New license/Registration |
Documents Required
The documents required for obtaining the license or registration from the FoSCoS is as follows:
KoBwiseDocumentsrequiredforLicense

Documents for New License
The below-listed documents need to be provided for obtaining the new food business license.
Documents for New Registration Certificate
Photograph of the Applicant
Government-issued photo identity such as AADHAAR, PAN, and Voter ID etc.
Proof of Address of Businesses activity (if the address is other than as mentioned in Photo ID Card)
Documents for Renewal/Modification of License
Any change in documents or information provided during the grant of the previous food business license.
Certificate of Food Safety Management System being adopted
Medical fitness certificates of all workers engaged in the firm
All details of technical personnel in charge of the operation
Documents required for Renewal of Registration/License
Any change in documents or information provided during the grant of the previous registration
Procedure to Use FoSCoS
The food business operator can either create sign-up using the unique mobile ID and email ID or use the same login credentials as used for FLRS application for using the FoSCoS application. The food business operator can follow the following guidelines to register in the FoSCoS and avail of the new facilities offered by the FSSAI.
User Registration
The  Food Business Operator (FBO) need to access the official webpage of the Food Safety and Compliance System (FoSCoS) and click on the sign-up option form homepage at the top right corner of the portal.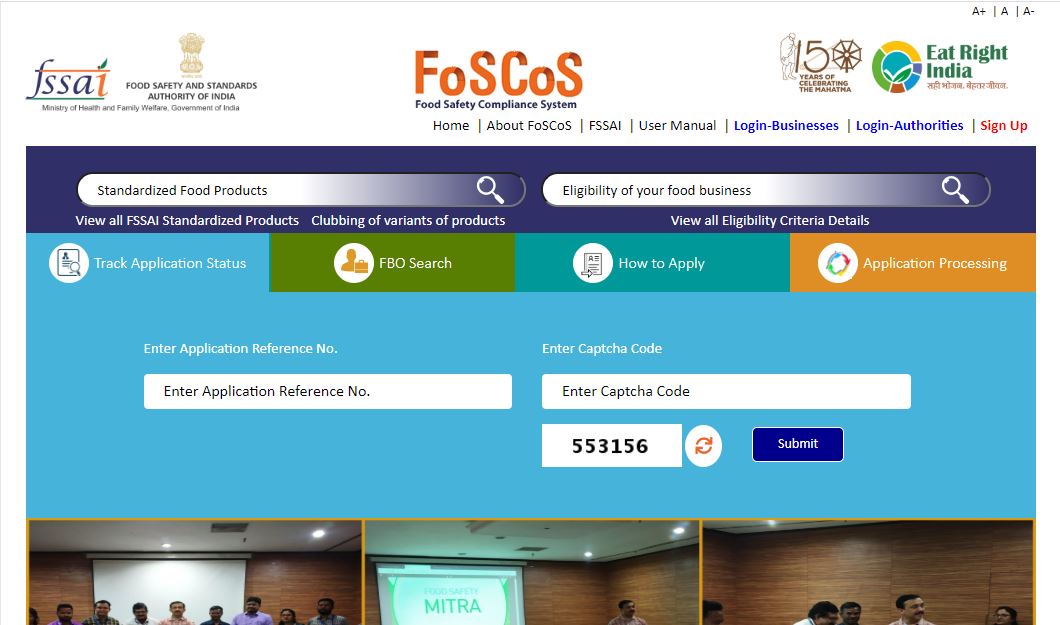 By clicking on signup, the FOB will be redirected to the signup page, provide all details such as Name, Email ID, Mobile Number, Login ID and Password and click on "Signup" button.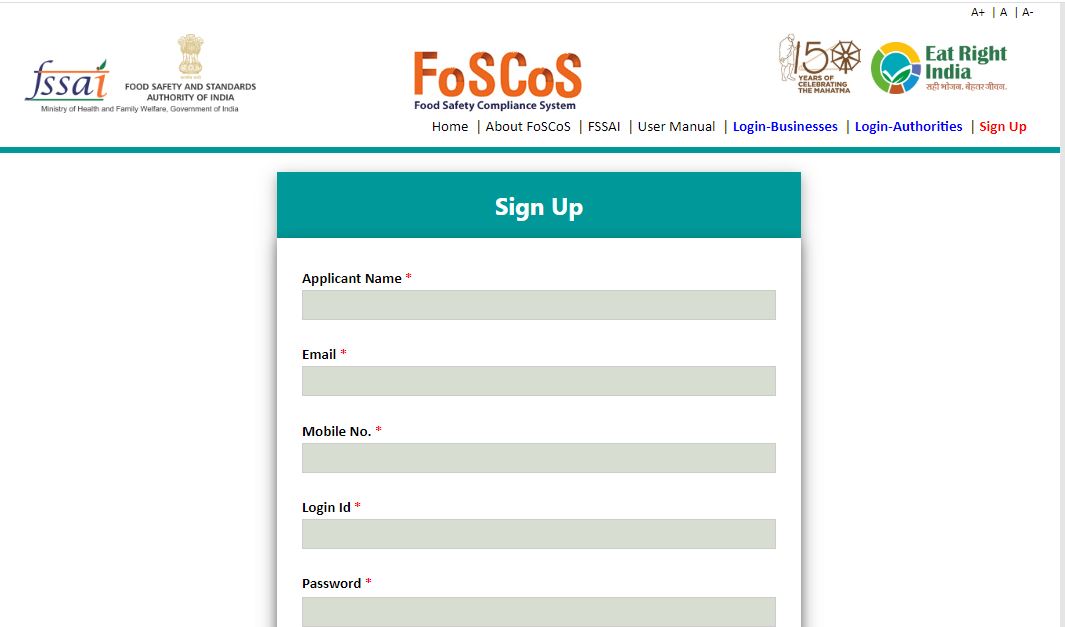 A verification code will be sent to the registered mail and mobile number. Furnish that verification code in the provided box and click on the "Submit" option to verify the details.
After successfully signing up, the FOB can log in to the system by entering the username and password.
Registration of Petty Food Business Operators
After login to the portal, click on the "Apply for Registration Certificate (Petty Food Business Operators)" option.  After the verify OTP select the application for New Registration option. A new application page will open provide all details in the application for registration of Petty FBO and submit the application.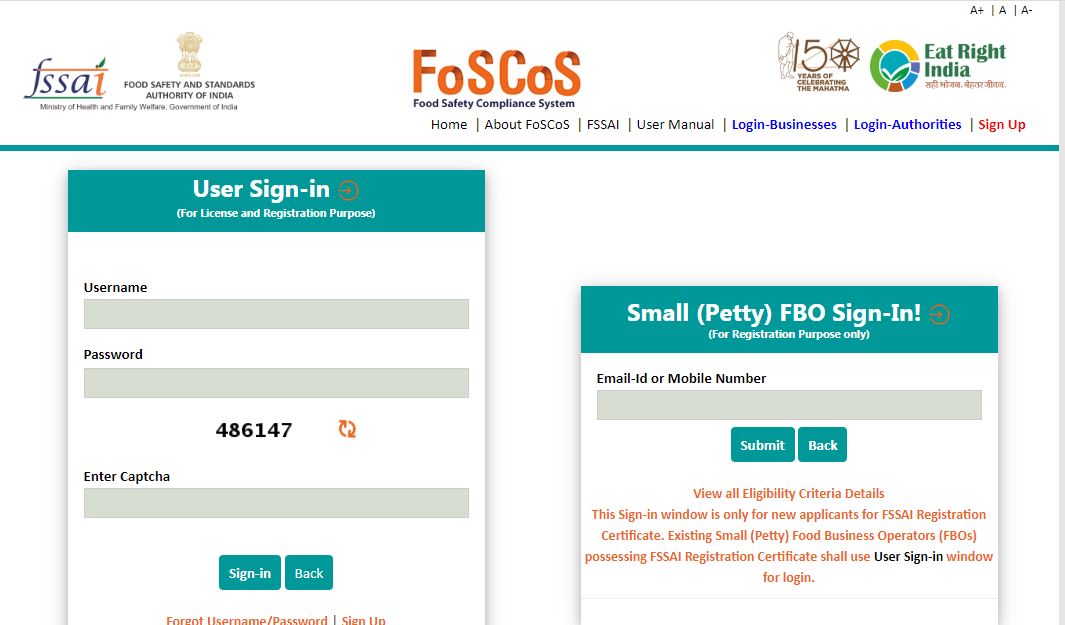 Procedure for New Application (Registration/ License)
The process flow of applying for food business registration/ license is similar to FLRS with minimal changes in overall functionality. After login to the portal, the dashboard will be displayed, click on the License/Registration option in the left menu and select the Apply for New License/Registration option.
Select the head office as per the KoB details and Select appropriate kind of business applications as per food Business to be conducted. The user needs to provide the details in the Form-B and submit the application for registration.
Procedure for Renewal of an Application
FBOs can submit a request to renew their existing issued licenses/ registrations using the Renewal tab. The renewal application needs to be submitted between the time frame of 120 days and 30 days before the date of expiry of license.
Post by Renu Suresh
Renu is experience content writer specialised in compliances and company rules.