ePAN Card
Home
»
Learn » Personal Finance »
E PAN Card
The Income Tax Department has introduced a new initiative call ePAN card. Users can use the ePAN card facility to instantly obtain a PAN card by applying online. ePAN card application facility is free of cost and is currently being tested in Beta. To obtain a e-PAN card, it is mandatory for the applicant to possess an Aadhar card as Aadhar number of the PAN applicant is mandatorily required to obtain e-PAN. Individuals already possessing a PAN cannot apply for an e-Pan. Also, ePAN cannot be obtained by company or LLP or partnership firm.
Eligibility for ePAN
ePAN card can be applied for only by Indian residents other than minors and people covered under Section 160 of the Income Tax Act. Hence, ePAN card cannot be obtained by Hindu Undivided Families, firms, trusts, companies etc. ePan is created based on the details entered in the Aadhar Card. Hence, only persons holding Aadhar can obtain ePAN and if the details in the Aadhar Card is incorrect, the ePAN will also be incorrect. Hence, in case of correction, the applicant can visit the official website of UIDAI before applying for ePAN.
Procedure to Apply for ePAN
The following steps have to be followed to apply for an e-Pan card:
Step 1: Log on to the website
The applicant has to log on to the official website http://incometaxindiaefiling.gov.in.
Step 2: Mobile number linked to Aadhar
The applicant has to possess the registered mobile number that is linked with the Aadhar card.
Step 3: Click on Instant e-Pan
The applicant has to click on Instant e-Pan option.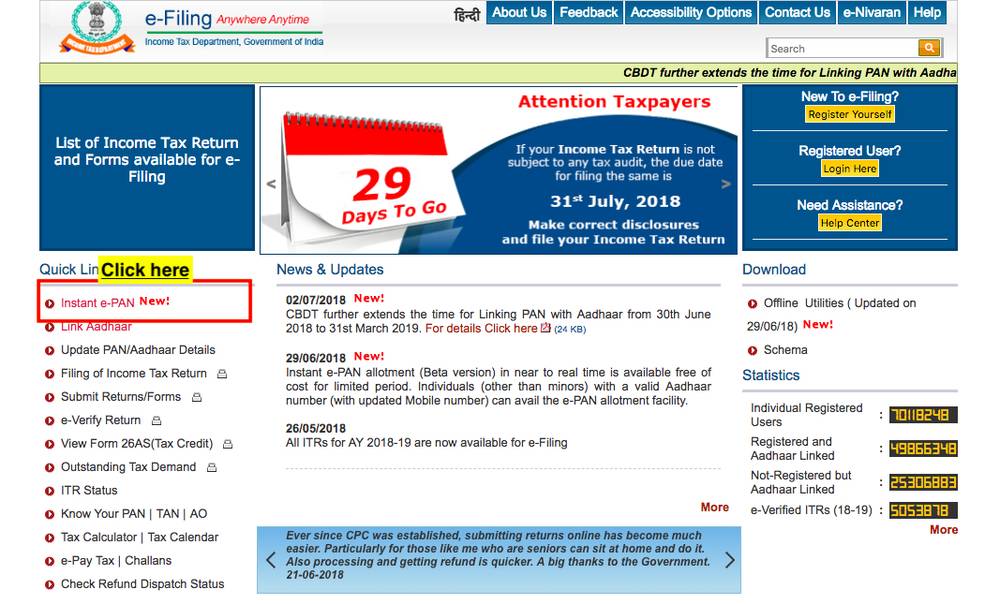 Step 4: Enter the details
In the Aadhar e-KYC, the applicant has to enter the details as registered in the Aadhar card and the Aadhar Number.
Step 5: Enter the OTP
Once, the Aadhar number is entered, an OTP will be sent to the registered Mobile number.
Step 6: Uploading the signature 
The applicant has to upload the scanned copy of the signature on a white paper with a resolution of 200 DPI, with a file type of JPEG of 10 KB with a dimension of 2×4.5 cm.
Step 7: Acknowledgement Number
Once all the details are entered correctly, the applicant will receive a 15 acknowledgement number to the registered mobile number.
Checking Status
To check the status of the ePAN card, the following steps have to be followed:
Step 1: Log on to the website
The applicant has to log on to the official website http://incometaxindiaefiling.gov.in.
Step 2: Click on Check Instant e-Pan Statuts
In this page, the applicant has to enter the 15 digit acknowledgement number.
Step 3: Knowing the Status
Once the acknowledgement number is submitted, the applicant can view the status of the e-Pan card.
FAQs for epan card
I have a PAN but I have lost it. Can I get a new e-PAN through Aadhaar?
No. This service is only available if you don't have a PAN but do have a valid Aadhaar number and your KYC information is up to date.
What documents do I require for new e-PAN?
Who can apply for Instant e-PAN throughAadhaar?
Are there any charges / fee for e-PAN?
Why do I need to generate an e-PAN?
The current status of my PAN allotment request status is updated as – PAN allotment request has failed. What should I do?
I am not able to update my Date of Birth in my e-PAN. What should I do?
Can foreign citizens apply for PAN through e-KYC mode?
How will I know that my e-PAN generation request is submitted successfully?
Do I need to submit the physical copy of KYC application or proof of Aadhaar card?
If my Aadhaar authentication gets rejected during e-KYC, what should I do?
Do I need to upload a scanned photo, signature etc. for e-KYC?
Will I get a physical PAN card?
Do I need to do in-person verification (IPV)?
How do I get a physical PAN card?
Post by Bennisha
IndiaFilings is India's largest online compliance services platform dedicated to helping people start and grow their business, at an affordable cost. We were started in 2014 with the mission of making it easier for Entrepreneurs to start their business. We have since helped start and operate tens of thousands of businesses by offering a range of business services. Our aim is to help the entrepreneur on the legal and regulatory requirements, and be a partner throughout the business lifecycle, offering support at every stage to ensure the business remains compliant and continually growing.