IndiaFilings
»
Learn » MSME »
MSME Udyam Registration – Get MSME's Udyam Registered Online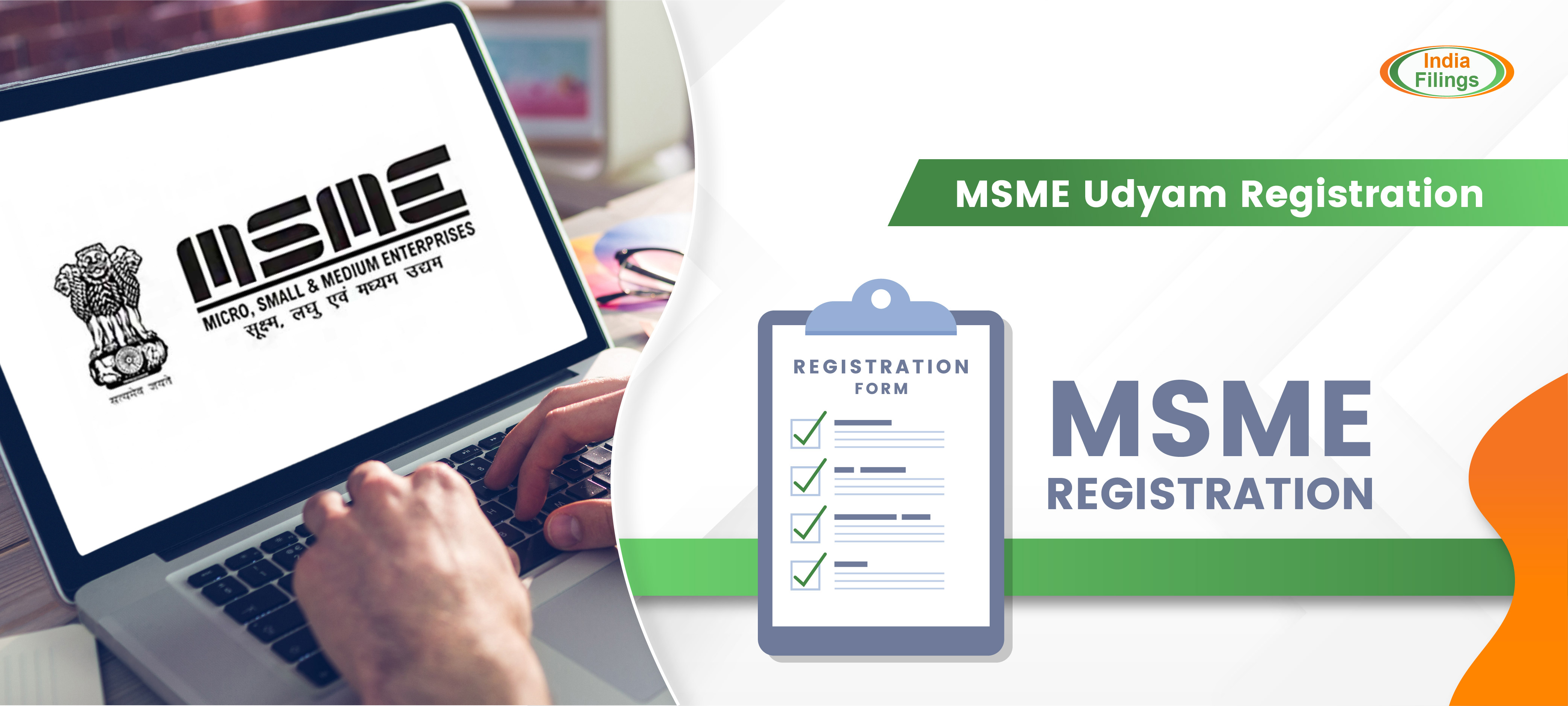 MSME Udyam Registration – Get MSME's Udyam Registered Online
Udyam registration is the new process for registering MSME (micro, small and medium enterprises) launched by the Ministry of Micro, Small & Medium Enterprises on July 1, 2020. The Ministry had also revised the definition of MSMEs from the same date.  
An enterprise for this process is known as Udyam, and its Registration Process is known as Udyam Registration. A permanent registration number will be issued after Registration.
Udyam Registration Vs. Udyog Aadhaar registration 
Udyam Registration or MSME Registration is nothing but a government registration that is provided along with a recognition certificate and a unique number. This registration is to certify micro/small/medium enterprises. The Udyog Aadhaar registration has been transformed to the Udyam registration since July 2020. Udyam registration has made the process more accessible than it was earlier, at the time of Udyog Aadhaar registration.
Udyam registration is essential for availing the various benefits of schemes or programs of the Ministry of MSME, such as the Credit Guarantee Scheme, public procurement policy, additional edge in Government Tenders and protection against delayed payments, etc.
Udyam Registration Certificate
After completion of the process of Udyam Registration, a certificate will be issued online. This Udyam Registration Certificate will have a dynamic QR Code from which the details about the enterprise can be accessed.
Renewal of Udyam Registration  
Udyam Registration Number is a permanent identification number, and there will be no need for renewal of Registration.
Udyam Registration Benefits
The Udayam Registration is a simple process and there is no need to handle the paperwork for obtaining Udyam Registration. Having Udyam Registration for your venture entitles your Business to the following benefits:
Special Preference in Procuring Government Tender

Udyam registration will help to get the bank loans without Collateral/ Mortgage. 1 percent Exemption on the interest rate on Bank Overdraft (OD)

There are various tax rebates available for Udyam registered enterprises.

Higher preference is provided to businesses registered under Udyam for government license and certification.

Registered Udyam gets tariff subsidies and tax and capital subsidies

Concession in Electricity Bills

It gives protection against the delay in payment from Buyers

Tax Rebates

Special 50% discount on Government fees for Trademark and Patent filing

Fast Resolution of Disputes
For more details on MSME Registration Benefits in India, click here
Who can apply for Udyam registration?
Any person who aspires to establish a micro, small, or medium enterprise can avail of Udyam Registration.
Proprietorships, Hindu Undivided Family (HUF), Partnership Firms, One Person Companies, Private Limited Companies, Limited Companies, Producer Companies, Limited Liability Partnerships, any association of persons, cooperative societies, or any other undertaking can obtain MSME Udyam Registration in India. 
Revised MSME definition – The Atamnirbhar Bharat package
After 14 years since the MSME Development Act, a revision in the MSME definition was announced in the Atmnirbhar Bharat package on 13.05.2020 to bring more units under the purview of the schemes announced. According to this package, the composite criteria for the definition of MSME are investment and turnover; the limit has been revised upwards. The distinction between the service and the manufacturing sector has also been eliminated.
The limit of the Micro units (both manufacturing and services) was increased to Rs. 1 Crore investment and Rs. 5 Crore turnover.

Similarly, the limits of the small unit also increased to Rs. 10 Crore of investment and Rs 50 Crore of turnover.

The limits of the medium enterprises were increased to Rs. 20 Crore of investment and Rs. 100 Crore turnover.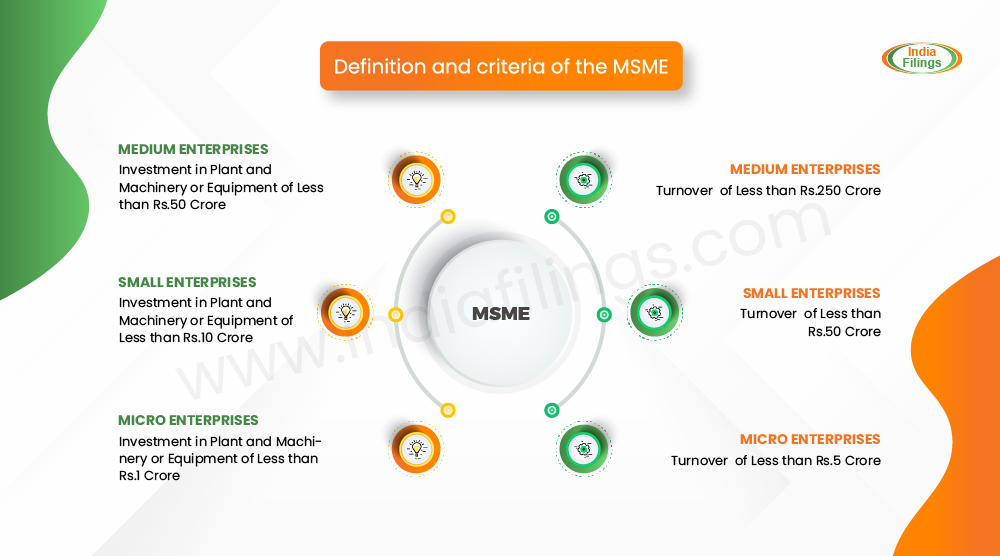 For better understanding, go through the table attached here:
Composite Criteria: Investment in Plant / Machinery and Turnover
Sl.No
Type of Enterprises
Investment
Turnover

1

Micro enterprises

Less than Rs.1 Crore

Less than Rs.5 Crore

2

Small enterprises

Less than Rs.10 Crore

Less than Rs.50 Crore

3

Medium enterprises

Less than Rs.20 Crore

Less than Rs.100 Crore
Know more about the Highlights of the Atmanirbhar Bharat Abhiyaan Economic Package
MSME Notification July 2021: Addition of Retail and Wholesale Trade under MSME
Earlier, the MSME registration covered only the manufacturing and service industries. However, in July 2021, the government announced that the wholesale and retail trade will come under the MSME classification and thus can apply for MSME registration of their wholesale/retail trade business except for motor vehicles and motorcycles. Thus, manufacturing and service industries and wholesale and retail trade are covered and eligible to apply for MSME registration.
Click here to know more about the Addition of Retail and Wholesale Trade under MSME
When to apply for MSME Udyam Registration registration?
Obtaining Udyam Registration is not mandatory and is at the sole discretion of the Entrepreneur. However, it is recommended that most businesses obtain MSME registration right after Registration to enjoy various benefits offered by the Government.
Documents Required for Udyam Registration Online
The Online Udyam Registration application process is based on self-declaration, and there is no further requirement to upload any documents.
The applicant will only need to furnish their 12-digit Aadhaar Number, PAN, and Bank Account details of Business for the registration process.
Udyam registration of New Enterprise –  Udyam Registration Portal
The new enterprise is required to follow the below steps to register on Udyam Registration Portal:
The new enterprise is willing to establish itself as an MSME and needs to apply for online Udyam Registration in Udyam Registration Portal.

The application is based on self-declaration, and there is no further requirement to upload any documents, certificates, papers, or proofs. Udyam registration is free of cost.

 An Aadhaar number is mandatory for obtaining Udyam Registration. Following Aadhaar number is required based on the type of firm
| | |
| --- | --- |
| Type of firm | The person whose Aadhaar number is required |
| Proprietorship firm | Proprietor |
| Partnership firm | Managing partner |
| Hindu Undivided Family | Karta |
| Company or a Co-operative Society or a Trust or a Limited Liability Partnership | Authorized signatory |
PAN and GST-linked details on investment and turnover of enterprises will be taken automatically from Government databases.

MSME online system is fully integrated with Income Tax and GSTIN systems.

On successful application submission, the enterprise will be assigned a 'Udyam Registration Number' (i.e., permanent identity number).

On completion of the registration process, the enterprise shall be issued an 'Udyam Registration Certificate.'
Note: Importantly, an enterprise can file only one Udyam Registration. Additionally, multiple numbers of enterprise activities, i.e., manufacturing, services, or both, can be added to one Udyam Registration. 
IndiaFilings can help you get UDYAM registration and LEDGERS Accounting Software for providing estimates, invoices, tracking purchases, filing GST returns, and generating GST eWay bills.