IndiaFilings
»
Learn » Business Startup »
Top Business Ideas for Women Entrepreneurs in India
Top Business Ideas for Women Entrepreneurs
India has one of the largest women demographics in the world with over 360 million in the age group of 15-64. However, it is estimated that only around 3 million women in India fully or partially own businesses. Further, a majority of the businesses owned by women entrepreneurs are small businesses with annual revenue of fewer than Rs.10 lakhs. China, on the other hand, has more women entrepreneurs than the entire women population of the United States of America at 300 million women entrepreneurs. Therefore, to make the Indian dream of evolving as one of the largest economies in the world, it is important to unleash the power of Indian women and help them start new businesses. In this article, we look at some of the popular business ideas for women entrepreneurs in India.
Fashion Designing
Businesses centred around fashion, clothing and jewellery are a favourite among many women entrepreneurs and require very little investment to start. Starting a business in the fashion industry is also relatively easy with minimal registration requirements. For those women wanting to try their hand at entrepreneurship, they can start their fashion business as a Proprietorship and start selling clothing or fashion accessories to their friends through social media to generate some revenue. Once they have an understanding of the business model, a private limited company or LLP registration could obtain along with TIN registration to start selling through eCommerce portals such as Flipkart, Snapdeal or Amazon. (Want to learn about selling on Flipkart or Snapdeal?) If successful on the online platforms, the women entrepreneur can start a boutique taking business loans to establish a successful fashion or clothing business.
Tutoring & Education
There is a tremendous requirement for education-related services across the world. With the development of technology, Tutors are no longer physically required to be around the pupils. Tutors today teach a student on a wide range of skill from through video conferencing. Also, platforms like Tutor.com and MyPrivateTutor.com have made it easy to find tutoring jobs in India or Abroad. Starting a tutoring business does not require any registration and can be started as a Proprietorship. If tutoring engagements develop into a full-time business, a business entity can be registered and GST registration can be obtained to become organized. Tutoring businesses in India has the potential to develop into schools or institutions over time.
Health and Fitness
The health, fitness and wellness industry are booming in India. Along with the increasing health awareness, the demand for health studio has also steadily increased. Studios centred around Yoga, Pilates, Zumba, Aerobics, etc., are doing extremely well and require very minimal investment to start. While establishing a health studio, it is recommended that the entrepreneur start a private limited company or limited liability partnership and establish the business in the name of the entity. Establishing the health or fitness business in the name of a business entity would allow for easy transferability of the business and provide limited liability protection to the promoters.
Food and Beverage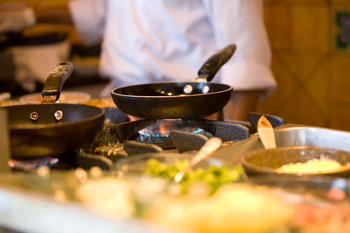 Most women have an interest in cooking and by starting a food business, interest can be turned into a business. With plenty of cuisines and food items, the breadth and depth of the food and beverages industry are vast. A business into baking, snacks, meals, beverage, etc., can be started easily from home. Further, with the development of technology and mobile apps, food manufactured in a home can easily be delivered to a diner within miles of the kitchen. Starting a food and beverage business out of the house requires no or minimal investment. The requirement for registration is also minimal. A business entity like a private limited company or LLP can be registered, based on the scales of the business. In addition to the business registration, TIN Registration, Service Tax Registration and Food Business Operator License may be required as the business scales up.
Consulting & Event Management
Women in the urban areas rival men in terms of education and obtain degrees in various fields. However, many women never use their education and instead focus on household management after the wedding. This is a tremendous waste of the entrepreneurial potential of Indian women. Therefore, even those women involved in household management can start a consulting business in an area of their expertise. Consulting businesses in the area of social media management, wedding planning, business development, personality development, accounting, etc., have a tremendous requirement. Further, with a consulting business, a women entrepreneur can enjoy flexibility in terms of work-life balance. Event management is another area that has tremendous potential with more and more families opting to hire event management agencies for birthday parties, corporate events, etc.,
Photography
Digital photography has revolutionized the photography industry. Gone are the days when extensive training and experience was required to be a professional photographer. With the development of digital photography technology, even an amateur photographer can easily take professional-looking photos and easily edit them on easy to use the software. Along with the developments in digital photography, social media has boosted the shareability of images. Therefore, more and more people are turning to professional photographers for taking a wide variety of pictures. It is also easy to start a photography business and it only requires a minimal investment in equipment. Therefore, minimal professional expertise combined with flexible work hours makes photography business a great business idea for women entrepreneurs in India.
IndiaFilings can help Women Entrepreneurs easily start a business in India. For more information, visit IndiaFilings.com