IndiaFilings
»
Learn » Income Tax »
TDS (Tax Deducted at Source): All You Need to Know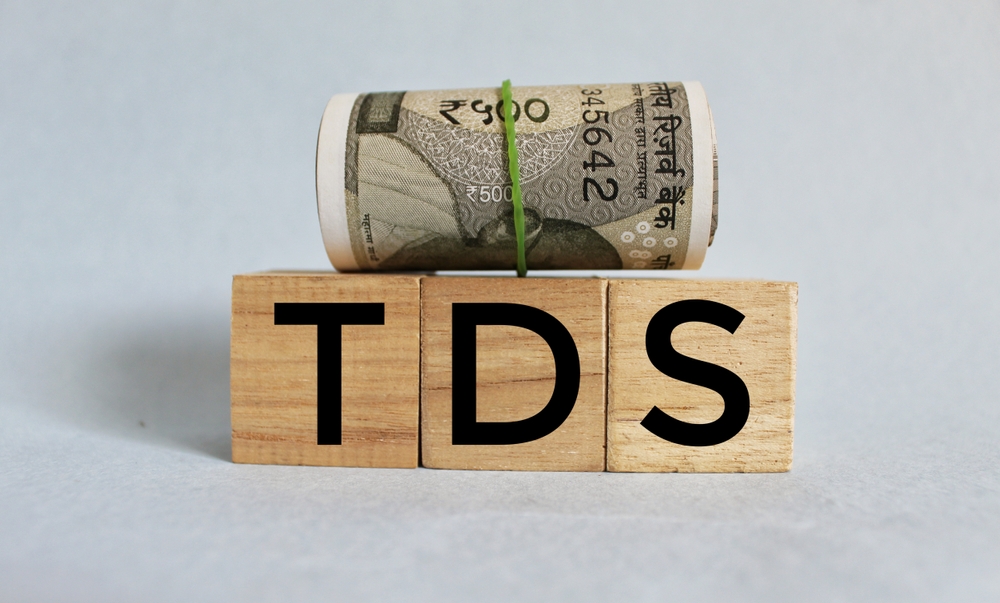 TDS (Tax Deducted at Source): All You Need to Know
TDS serves as a method for directly collecting taxes from individuals' money. When someone makes a payment to you, they must withhold a certain amount of Tax and then remit it to the government. TDS applies to various income sources, including salaries, interest earned on bank savings, rental income from property, and even commissions. It is a vital tool to ensure that individuals do not evade their tax obligations. This article will provide a comprehensive explanation of the rules and intricacies of TDS as outlined in the Income Tax Act of India.
What is TDS?
TDS full form, Tax Deducted at Source, is a way of taking part of your income tax right when you get paid. It happens when you receive certain kinds of payments. Normally, you're responsible for paying your income tax on your own. But with TDS, the government ensures that some tax is removed from your payment before you get it.
TDS deduction applies to such of the following income sources:
Commission earned

Rent

Interest payment by banks

Professional or consultation fee

Contractor payments

Amount under LIC

Compensation for acquiring immovable property

Brokerage or Commission

Insurance Commission

Interest on securities

Remuneration paid to the director of the company

Winning from games like a card lottery, crossword puzzle, etc.

Deemed Dividend

Interest apart from interest on securities

Transfer of immovable property

Income from online gaming
How Does It Work?
When you receive money with TDS, you get a bit less because of the tax deduction. Later, you must add the full payment to your total income when calculating your taxes. The Tax you already paid through TDS is then subtracted from what you owe, making it easier to manage your tax responsibilities.
When and Who Should Deduct TDS?
Tax Deducted at Source comes into play when certain payments are made according to the Income Tax Act. Here's who should deduct Tax Deducted at Source and when:
Responsibility for Deducting TDS: Anyone who makes such payments is responsible for deducting TDS.
Exemption for Individuals and HUFs: Individuals and Hindu Undivided Families (HUFs) without needing a tax audit are exempt from TDS.
Mandatory 5% TDS for Rent Payments: Individuals and HUFs must deduct a 5% TDS on monthly rent payments exceeding Rs 50,000, even if they are not subject to a tax audit.
TDS by Employers: Employers deduct TDS based on the income tax slab rates applicable to employees. Banks typically deduct 10% or 20% if they lack PAN (Permanent Account Number) information.
Avoiding TDS with Investment Proof: If your total taxable income is below the limit, you can prevent TDS by providing proof of investments that qualify for deductions.
Preventing TDS on Interest Income: To avoid Tax Deducted at Source on interest income when your income is below the taxable limit, you can submit Form 15G or Form 15H.
Claiming a Refund for Excess TDS: If Tax Deducted at Source is deducted, but your income falls below the taxable limit, you can claim a refund by filing an income tax return.
Penalty for Non-Compliance of TDS
Not following the Tax Deducted at Source deduction rules can lead to penalties, usually in fees and interest added to the main taxable amount. These penalties can take different forms, such as:
Regulation Regarding Tax Deduction: Tax must be deducted when the payment is made. Any delay in tax deduction incurs a monthly penalty of 1% interest until the sum is deducted. Failure to deduct TDS may result in restrictions when determining taxable profit from total expenditures.
Regulations Regarding TDS Payment: Taxpayers must remit the taxable sum to the Government by the 7th day of the following month. Non-payment or late payment incurs a penalty of 1.5% per month on the total payable amount until the sum is deposited.
Regulations Regarding TDS Return Filing: TDS returns must be filed on the 31st day of January, July, May, and October of each financial year. Failure to file or late filing results in a penalty of Rs. 200 per day (as per Section 234E of the Income Tax Act of India) until the return is filed, not exceeding the total Tax levied.
Higher TDS and TCS rates for non-filers of Income Tax Return
Due date for TDS Deposit to the government
The Tax Deducted at Source must be deposited to the government by the 7th day of the following month.
Online TDS Payment
To make a TDS payment online, follow these steps:
Step 1: Go to NSDL's website dedicated to e-payment of taxes.
Step 2: Under the TDS/TCS section, select 'CHALLAN NO./ITNS 281.' This will take you to the e-payment page.
Step 3: Under 'Tax Applicable,' choose 'Company Deductees' if you deducted TDS while paying a company. Otherwise, select 'Non-Company Deductees.'
Step 4: Enter the TAN (Tax Deduction and Collection Account Number) and the Assessment Year for payment.
Step 5: Provide the 'Pin Code' and select your 'State' from the drop-down menu.
Step 6: Indicate whether the payment is for TDS deducted and payable by you or for TDS on regular assessment.
Step 7: Select the 'Nature of Payment' and the 'Mode of Payment' from the available options.
Step 8: Click the 'Submit' button.
Step 9: After submission, a confirmation screen will appear. If your TAN is valid, the taxpayer's full name, as per the records, will be displayed on this confirmation screen.
Step 10: Upon confirming the entered data, you will be directed to the net banking site of your bank.
Step 11: Log in to your bank's net banking site using your user ID and password provided by the bank.
Step 12: Make the payment through the net banking portal.
Step 13: Upon successful payment, a challan counterfoil will be displayed, which contains the CIN (Challan Identification Number), payment details, and the bank name through which the e-payment was made. This counterfoil serves as proof of the payment made.
After making the TDS payment, you must file your TDS return. 
How to Check the Status of Online Payment
To check the status of online Tax Deducted at Source payments, follow these steps:
Step 1: Go to the TIN-NSDL Oltas challan status inquiry website.
Step 2: There are two ways to search for the challan status of TDS payments:
Option 1 – CIN Based View:
Enter the challan details, including the BSR (Basic Statistical Return) code of the collecting branch, challan date, challan serial number, and amount (optional).
After providing these details, you can view the following information:
Challan serial number

Date of deposit

BSR code

Major Head Code with description

TAN/PAN (Tax Deduction and Collection Account Number/Permanent Account Number)

Name of the taxpayer 

Amount confirmation, if it is entered (correct or not)

Receipt date by TIN
Option 2 – TAN Based View:
Provide the TAN (Tax Deduction and Collection Account Number) and the challan date range for a specific financial year.
With this information, you can view the following details:
CIN (Challan Identification Number)

Major Head Code with description

Minor Head Code

Nature of Payment
If you enter the amount against a CIN, the system will confirm whether it matches the details of the amount reported by the bank.
TDS Returns
Filing Tax Deducted at Source (TDS) returns is compulsory for all individuals or entities that deducted TDS. TDS returns should be submitted quarterly, and they must include essential details such as TAN (Tax Deduction and Collection Account Number), the total amount of TDS deducted, the nature of the payment, the PAN of the payee, and more. The specific form for filing TDS returns varies based on the purpose of the TDS deduction.
For more details on TDS Returns, refer to our article Guide to TDS Return Filing in India.
IndiaFilings provides comprehensive assistance for seamless and accurate TDS return filing.
File Now!
How to Check Deducted TDS Amount
You can easily verify whether TDS has been deducted and credited to your account online. Here are the steps:
Visit the official website of the Income Tax Department and register as a new user.
Provide your Permanent Account Number (PAN) and create a password.

Log in to the portal using your registered ID and password.

Select the option to view your tax credit statement or Form 26AS.
You will be redirected to the TDS Reconciliation Analysis and Correction Enabling System page, where you can access details of your tax liabilities, including information on Tax Deducted at Source (TDS), advance tax payments, and more.
TDS Refund and Adjustments
You can claim a tax refund if you have paid more Tax than required. To do so, file a refund claim with your annual income tax return, and the refund amount will be processed along with your Income Tax Return.
For instance, if Mr. Paul presented an invoice of Rs. 40,000 and received Rs. 39,200 after deducting 2% TDS (Rs. 800), but he is liable for a 1% tax (Rs. 400) under Section 194C, the excess amount will be refunded when Mr. Paul files his Income Tax Return.
If annual income falls below the taxable threshold, you can request zero deduction on your income through either of these methods:

Declare income below the basic exemption limit using Form 15G or 15H, which exempts you from TDS. These forms must be submitted annually, or you may face tax deductions.

Under this provision, apply for a lower or zero tax deduction rate certificate using Form 13, which will register your income for zero TDS.
Understanding Tax Deducted at Source is crucial for taxpayers to comply with the regulations of the Income Tax Department of India, including taxation limits, applicable forms, and related details.
Individuals can earn income from various sources, and income tax is a direct tax that they must pay based on the income tax slab their taxable income falls into. In the Indian tax system, Tax Deducted at Source plays a vital role in taxation and substantially impacts taxpayers' post-tax income.