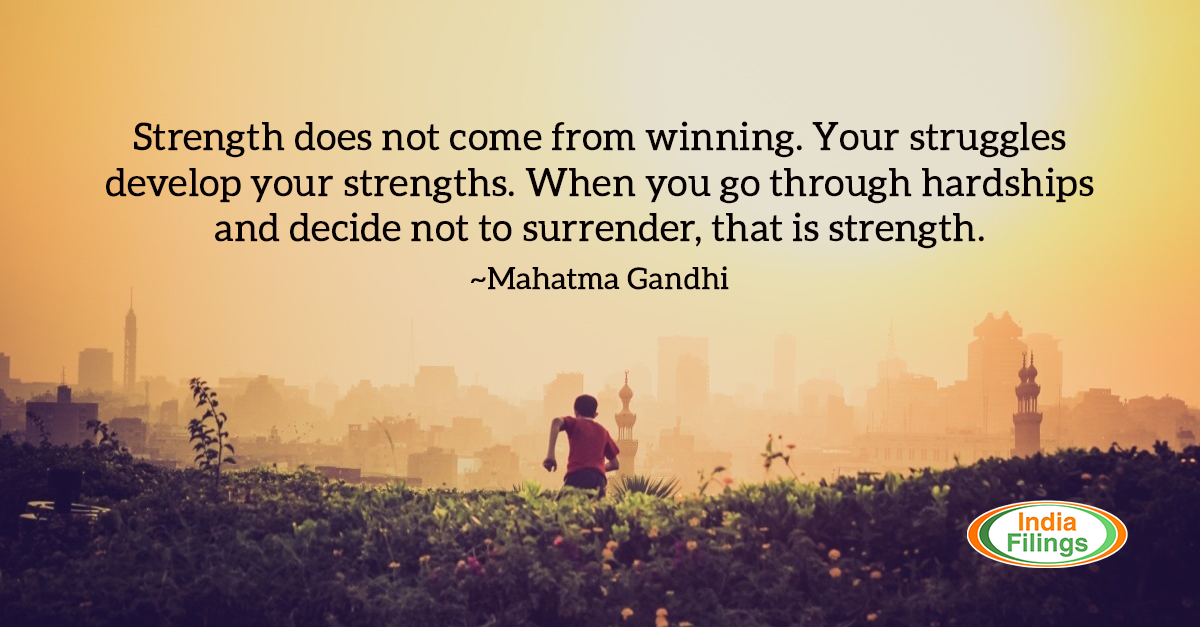 Motivational Quotes for Entrepreneurs
Home
»
Learn » Business Startup »
Motivational Quotes for Entrepreneurs
A collection of motivation quotes for Entrepreneurs and Startups.
Mahatma Gandhi's Quote on Strength and Struggles
Strength doesn't come from winning. Strength comes through struggles and hardship – Gandhi #entrepreneur #startup pic.twitter.com/nudroNNP9C

— IndiaFilings (@IndiaFilings) April 23, 2015
Michael Jordan Quote on Success and Failure
I've failed over and over and over again in my life and that's why I succeed – Michael Jordan #success #entrepreneur pic.twitter.com/Gkhs4WjZkc

— IndiaFilings (@IndiaFilings) April 22, 2015
Earl Nightingale Quote on Goals
"People with goals succeed because they know where they're going." – Earl Nightingale
Dale Carnegie Quote on Perseverance
"Most of the important things in the world have been accomplished by people who have kept on trying when there seemed to be no hope at all." – Dale Carnegie
Martin Luther King Quote on Moving Forward
If you cant run then walk, if you cant walk then crawl, whatever you do keep moving forward – MLK #startup #business pic.twitter.com/BJGWEAabQD

— IndiaFilings (@IndiaFilings) May 9, 2015
McDonalds Founder on Risk Taking
"If you're not a risk taker, you should get the hell out of business." – Ray Kroc
Mark Twain Quote on Exploring & Discovering
Sail away from safe harbor, catch the trade winds in your sails. Explore, Dream, Discover. #startup #entrepreneur pic.twitter.com/oqChRDlZVO

— IndiaFilings (@IndiaFilings) April 24, 2015
Post by IndiaFilings
IndiaFilings.com is committed to helping entrepreneurs and small business owners start, manage and grow their business with peace of mind at an affordable price. Our aim is to educate the entrepreneur on the legal and regulatory requirements and be a partner throughout the entire business life cycle, offering support to the company at every stage to make sure they are compliant and continually growing.