Haryana Property Registration – Procedure and Stamp Duty
Haryana Property Registration
All transactions that involve the sale of an immovable property should be registered in India to ensure transfer of clean title to the owner. The registration of a property involves preparation of documents and paying the applicable stamp duty registration charges for the sale deed to be legally recorded at the Sub-registrar's office. In this article, we look at the procedure for Haryana property registration with stamp duty charges.
Purpose of Property Registration (Deed registration)
Transfer of immovable property can only be effected by way of registration. Registration of a document of transfer of immovable property provides the following benefits:
By registering a property, the document of transfer will be a permanent public record.

A public record can be inspected by any person and a certified copy can be obtained from the office of Sub-Registrar.

Registration of a document is giving information to the general public that the immovable property has been transferred by the owner to the buyer.

If a person plan to buy an immovable property, he can verify the record-index available in the sub-Registrar office. He can verify in whose name the last transfer deed has been registered.
Documents Required for Property Registration
For registering a property, the following documents must be submitted to the Registrar.
Proof of Ownership

Certified Copy Of Original Old Sale Deed/Assessment Of MC/Mutation

Proof of Identification

Ration Card/Voter ID/Driving License/Aadhaar Card/PAN Card/Identity Card

Verification of GPA from where it has been registered in case it has been registered out of state only

NOC

ID Proof of two witness parties

Map Plan and description of immovable Property

Digital Photograph of Property (Building /Plot)

In Case Of Release Deed: Mutation Of Virasat For Identification Of Ancestral Property.
Stamp Duty in Haryana
Stamp duty is a legal tax payable in full and acts as a proof for any sale or purchase of a property. Rates of stamp duty of various transactions in Haryana are tabulated here:
 

Transaction

Rate of stamp duty
Rural area

Urban area

Conveyance Deed/ Sale Deed/ Certificate

Of Sale.

5%

7% (Including 2% Municipality duty

2% exemption of S.D. on instruments

of sale executed in favour of women in

rural/urban)

Gift Deed, Mortgage Deed with Possession

3%

5%

Mortgage Deed without Possession, Settlement Deed, Partition Deed

1.5%

1.5%

Special Power of Attorney

Rs.100

Rs.100

General Power of Attorney

Rs.300

Rs.300

Exchange of Property

5%

7%

Affidavit

Rs.10

Rs.10

Security Bond, Release of Ancestral, Property, Surrender of lease.

Rs.15

Rs.15

Partnership Deed

Rs.22.5

Rs.22.5

Trust Deed

Rs.45

Rs.45

Adoption Deed

Rs.37.50

Rs.37.50

Equitable Mortgage/deposit of title deed, pawn or pledge

0.2445% if such loan is repayable on demand or in more than three months. 0.12225% if such loan is repayable in not more than three month.
Calculate Stamp Duty on Jamabandi
You can calculate stamp duty for a property transaction on the Jamabandi website by following the steps below:
Step 1: To view the applicable stamp duties visit the stamp duty page of Jamabandi web portal
Step 2: Enter Transaction Value in Rupee
Step 3: You have to select Municipality & Gender
Step 4: Then Click on Calculate. Amount of stamp duty & Registration fee will be shown.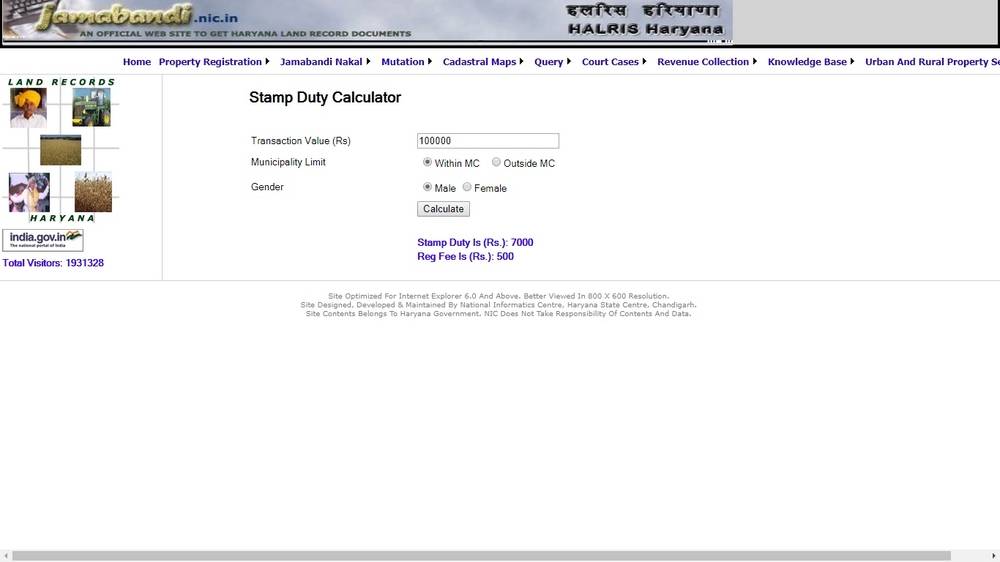 Procure E-Stamp Online
After viewing the applicable fee, you need to procure an E-Stamp online for registration. Visit e-Gras web portal. Login in to the portal & make necessary steps to obtain E-Stamp.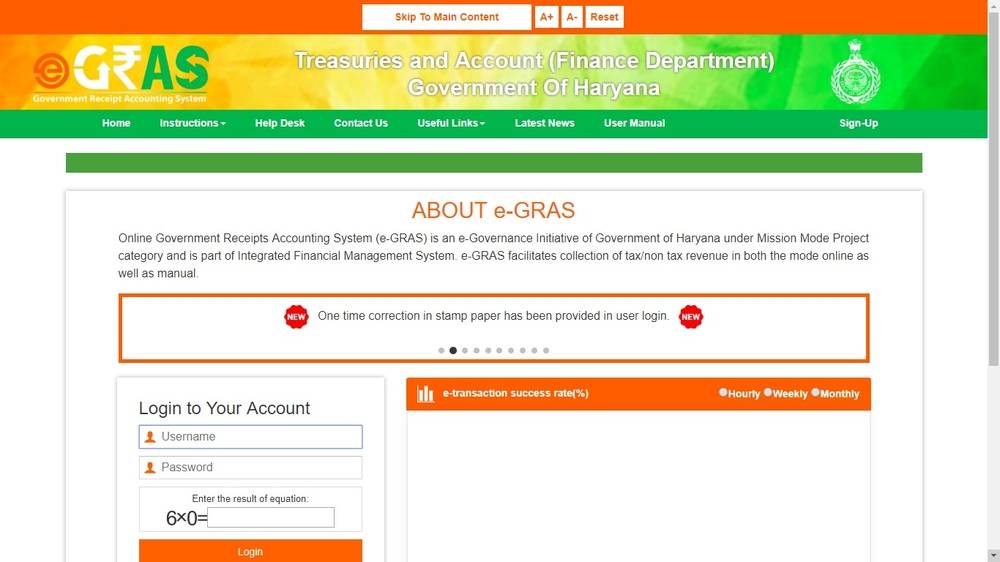 Deed Registration Appointment Slots Availability Checking
You need to take an e- appointment before registration of property.
Step 1: To check available slots for appointment visit Jamabandi portal http://jamabandi.nic.in/HARIS/AMSAptSlots.aspx.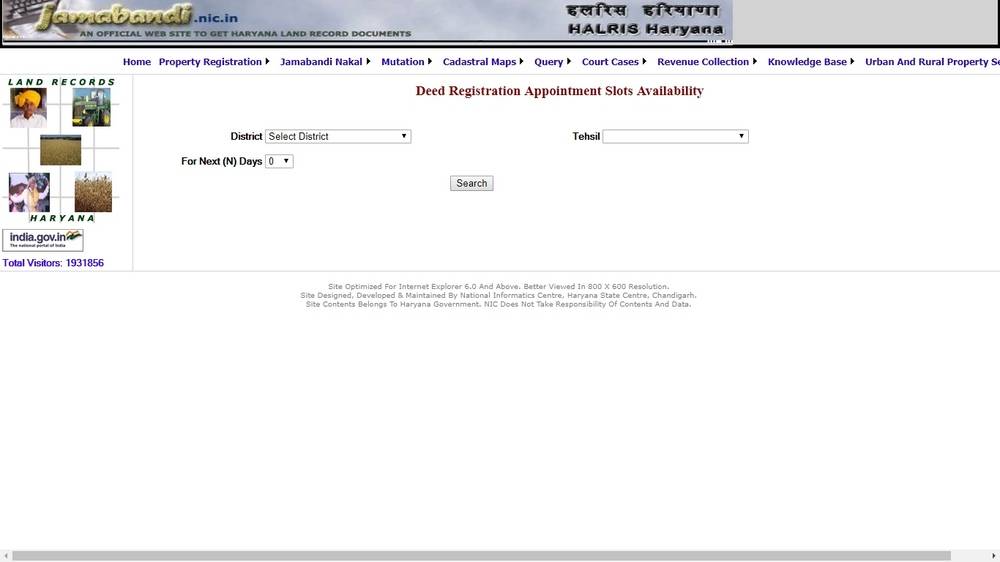 Step 2: You have to select District name, Tehsil and enter the date.
Step 3: Now available slots will be displayed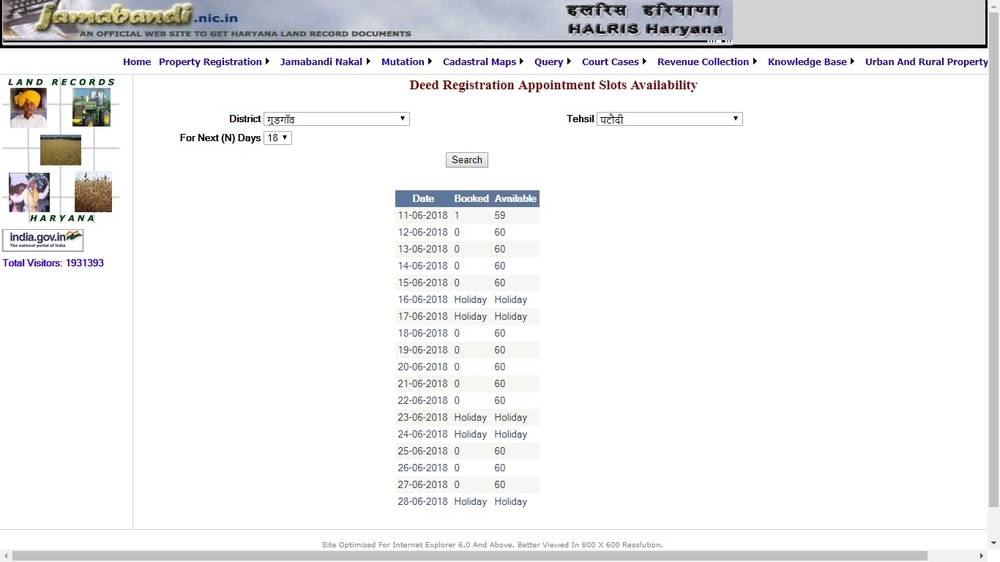 Step 4: You can now make e- appointments for registration. At the time of appointment, the E-Stamp details are to be entered on the Appointment Slip.
After taking the e-appointment, you can visit the sub Tehsil office or the SRO office with the required documents listed above.
Procedure for Registering a Deed
Haryana property deed registration guidelines are provided below:
Step 1: Visit Jamabandi website to download the desired deed.
Sample Copy of sale deed is here.
Step 2: Fill all details in the deed.
Note: The deeds are available in both format PDF & Word. The word format can be edited on a computer. Deeds in PDF format can be printed and necessary fields can be filled. Deeds can also be prepared by registered deed writers in respective Tehsil.
Step 3: Visit the Sub Registrar Office on the requisite date and time. Deeds are forwarded by Registration Clerk to Sub-Registrar.
Step 4: Once the Sub-Registrar marked the deed it will be fetched into the HARIS and deed data and Photograph of buyer will be recorded in the system.
HALRIS– Haryana Land Record Integrated System where the database of land records for the entire state of Haryana is maintained. Once the deeds are registered, the entries are mapped HALRIS.
Step 5: While Registering in HARIS, the desk officer will update Seller/ Buyer details & the E- Stamp number to update the transaction fees. Once the details are entered, the real time photograph is captured.
Step6: Once the deed is registered in HARIS, the SRO officer will regularize the deed by obtaining the Bio metrics of the buyer & seller.
Step 7: After regularizing the deed, the registry of the land is printed with pictures of seller, buyer, and witnesses along with signatures.
Step 8: The registered copy of the deed is provided to the parties and the Tehsil office also uploads the same on the Jamabandi web portal.
View Registered Deed
Step 9: You can view the registered deed online by visiting Jamabandi website.
Step 10: Go to Jamabandi Web portal. Select "view registered deed" option from drop down menu under Property registration menu.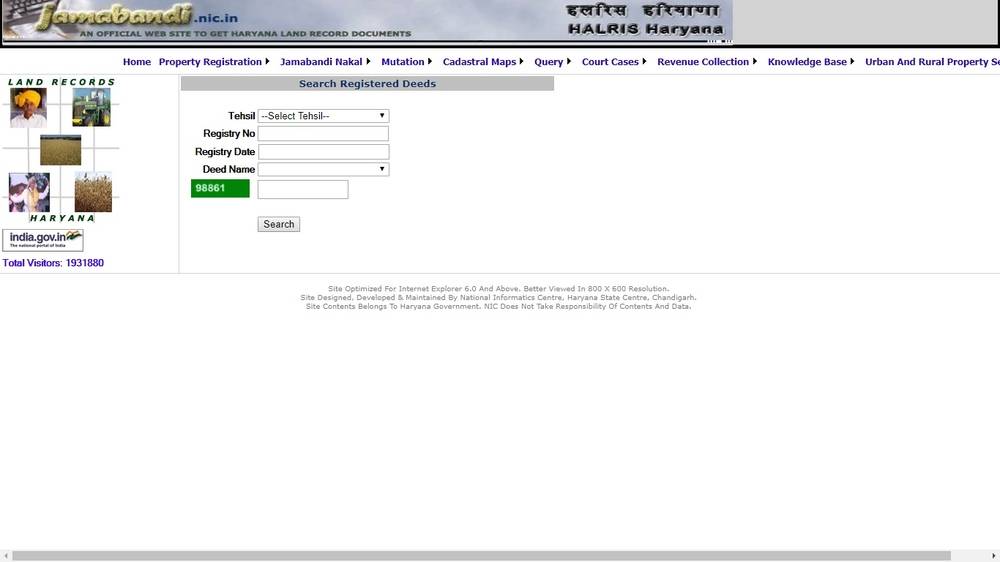 Step 11: You have to enter the following details.
Tehsil

Registry Number

Registry Date

Deed Name
Step 12: Enter the captcha and click on Search.You can now see the details of registered deed.