Jamabandi – Haryana Land Records
Jamabandi – Haryana Land Records
Jamabandi portal contains the official land records of the Revenue Department of Haryana Government. Details like property registration, sanctioned mutations and jamabandi of any land can be accessed on the Jamabandi portal. In this article, we look at the Haryana Jamabandi portal in detail.
Services on Jamabandi Portal
The service provided by Jamabandi – Haryana is listed out below.
Property Registration
Get Jamabandi Nakal
View Mutation Order
View Cadastral Map
Stamp Duty Details
Revenue Court case information
What is Jamabandi?
Jamabandi is a document prepared by Revenue Department of Haryana. Jamabandi can be considered as the father of all land records. Jamabandi is also called ROR which stands for 'Record of Rights'. It is revised every five year when a new Jamabandi is prepared by the Patwari & attested by the revenue officer. Two copies of the revised Jamabandi are prepared. One copy consigned to the district record room & other copy remains with the Patwari. In Haryana state Jamabandi (ROR) contain following details.
Khewat
Khatoni
Patti
Owner details
Cultivator details
Source of irrigation
Filed numbers or khasranos
Area & type of land
Rent paid by cultivator, rate and amount
Share or measures of right and rule of bach
Khewat Number
The Khewat number normally referred as 'KHATA NUMBER' by revenue officials.
It is an account number given to owner(s) which form a set of co-sharers who own the land in same or different proportions. The Khewat number in the Jamabandi runs sequentially starting from 1 to N. The Khewat Number may get changed in the next Jamabandi due to rearrangements that is same owners who were owners in some Khewat earlier may get another Khewat number in next Jamabandi.
Khasra number
The Khasra number is a plot number given to a specific piece of land in the village. Khasra number may get divided due to sale, gift etc. during the mutation and is given a new number with denominator. For example, because of mutation, Khasra number 100 is divided into two parts then during mutation two divisions of this Khasra i.e. 100/1 and 100/2 will be created and transaction takes place
Nakal 
To apply for Nakal submit an application in HALRIS Centre at the concerned Tehsil/SubTehsil Office. Computer Operator will generate the ROR (Nakal) of Concerned Khewat in the computer and give the print of Nakal. Patwari deputed on the HALRIS Centre will check the Nakal, sign on the Nakal and enter the Nakal in the Nakal Register. Patwari will receive the Nakal fees (Rs.30) & give the computer generated receipt to you and handover the Nakal to you.
Verify Nakal Issued by HALRIS Centre
Step 1: Visit the main page of Jamabandi Haryana.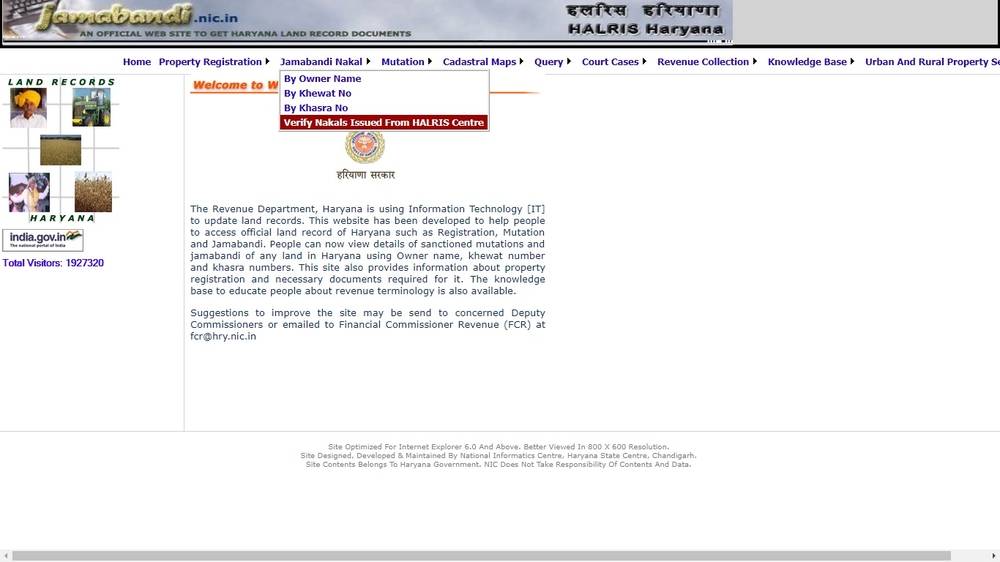 Step 2: Go to Nakal tap & select verify Nakal Issued from Halris.
Step 3: To Verify Nakal enter 15 Digital Nakal Unique ID.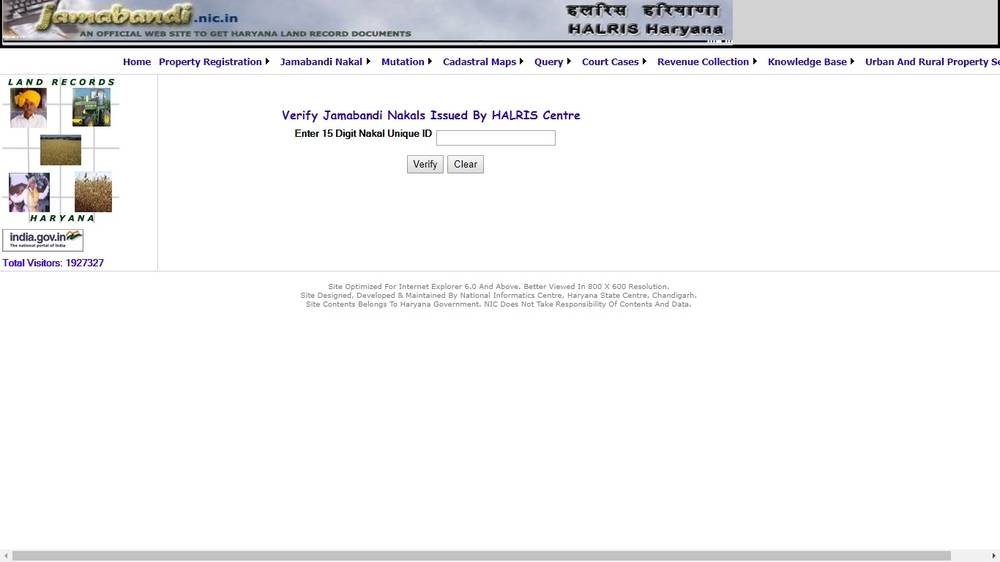 View Jamabandi Nakal 
Step 1: Go to home page of Jamabandi
Step 2: You can select these option from the tab.
Step 3: Select your District, Tehsil/Sub Tehsil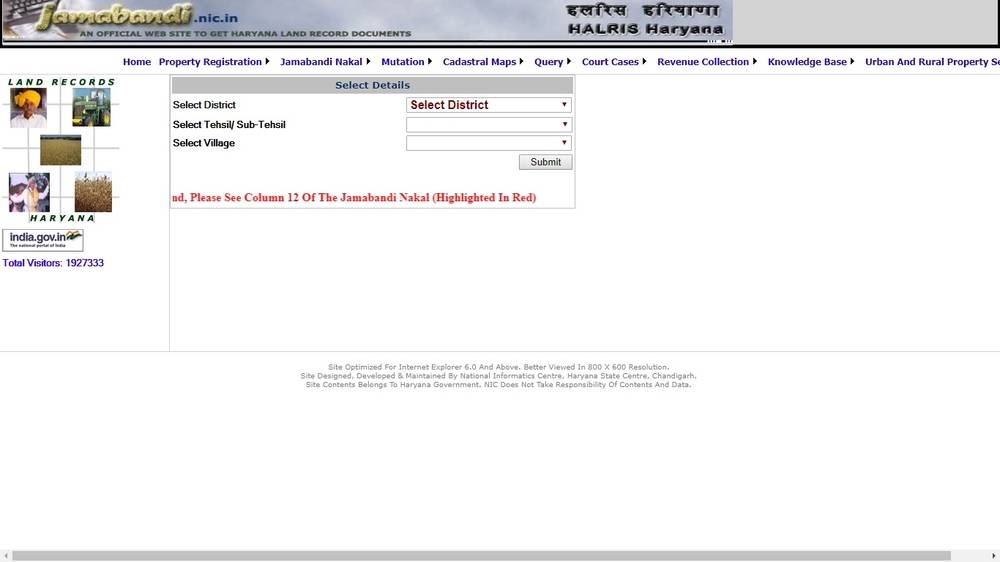 Step 4: After that click on Submit Button.
Step 5: In the new page, you need to select 'Owner list'.
Step 6: Select the name of the owner.
Step 7: Now you can see the all details of Jamabandi
Mutation
Mutation (Intkal) is process through which owner's name or his particular like liabilities get changed because of some type of transactions. The type of transaction may be one of the following.
Inheritance –Change of Ownership because of death of the Owner
Division of Land within the family
Pledge / Release-Change in liabilities because of loan from bank or repayment to bank
Court Decree-based on the court order
Alienation –Conversion of land from agriculture to other purpose
Acquisition by Government for public purpose
Grand of land by Government to poor people
To get Mutation submit an application at HALRIS Centre with Complete Documents.
View Mutation Order
Step 1: Visit the Jamabandi Haryana official page.
Step 2: Select view mutation option from mutation tab.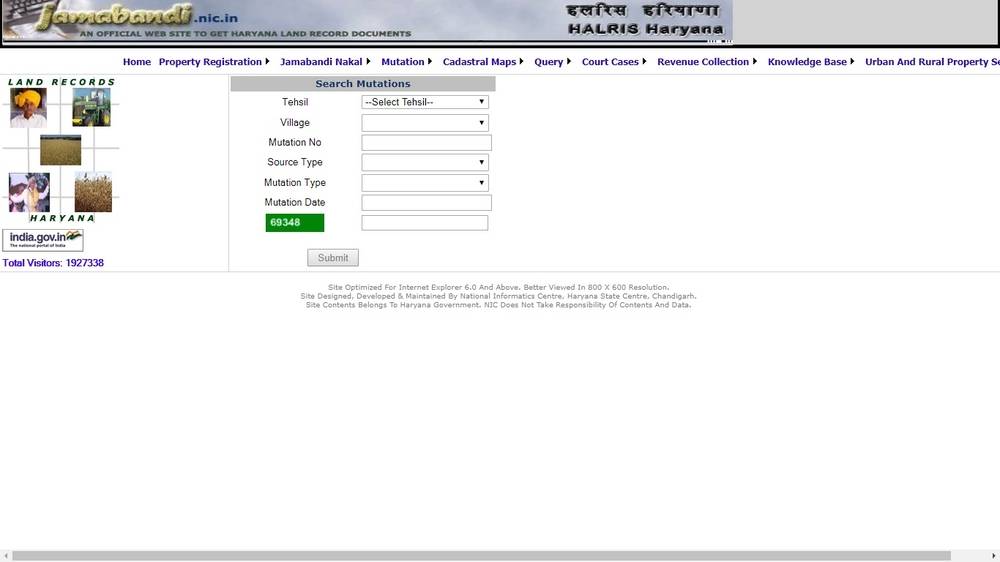 Step 3: Select your Tehsil, Village, Mutation number, Source Type, Mutation type, Mutation Date.
Step 4: Enter the captcha number shown in the page & Click on Submit.
You can now view your mutation details.
View Cadastral Map
A cadastral map is a map defining land ownership. The cadastral map is showing all registered geospatial data relating to registered plots. The cadastral map consists of cadastral units, each of which represents a single registered plot of land.
To view Cadastral Map, select "view Cadastral Map' option from main page of Jamabandi. The cadastral map is likely to resemble the view shown below.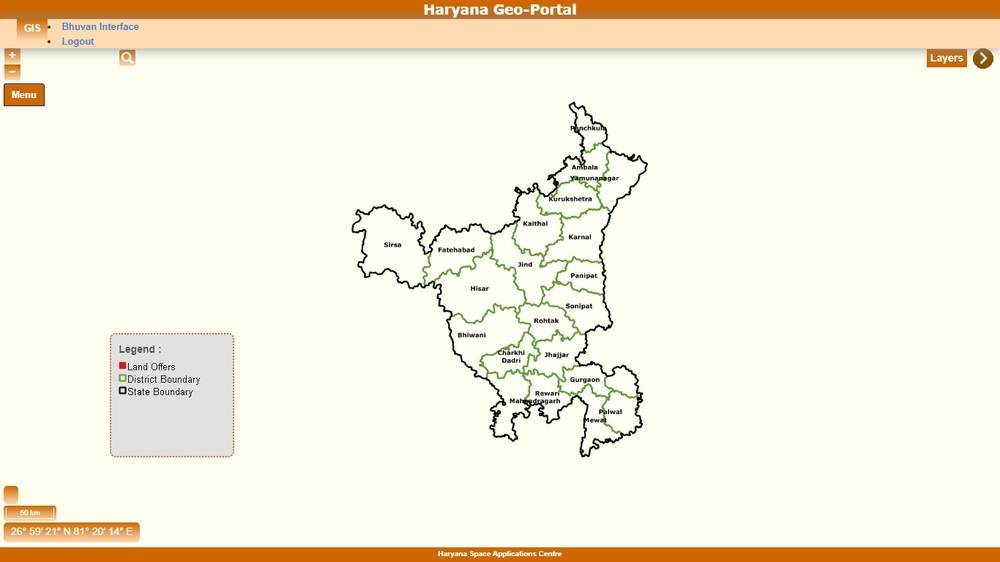 Revenue Court Cases
To get all information about Revenue Court Cases, you need to select the court cases option from main webpage.
By clicking on it, you will be redirected to next page 'Revenue Court Cases Justices Delivery System'.
View Registered Deeds
Step 1: Go to the website
Step 2: Select View registered Deeds in Property registration tab.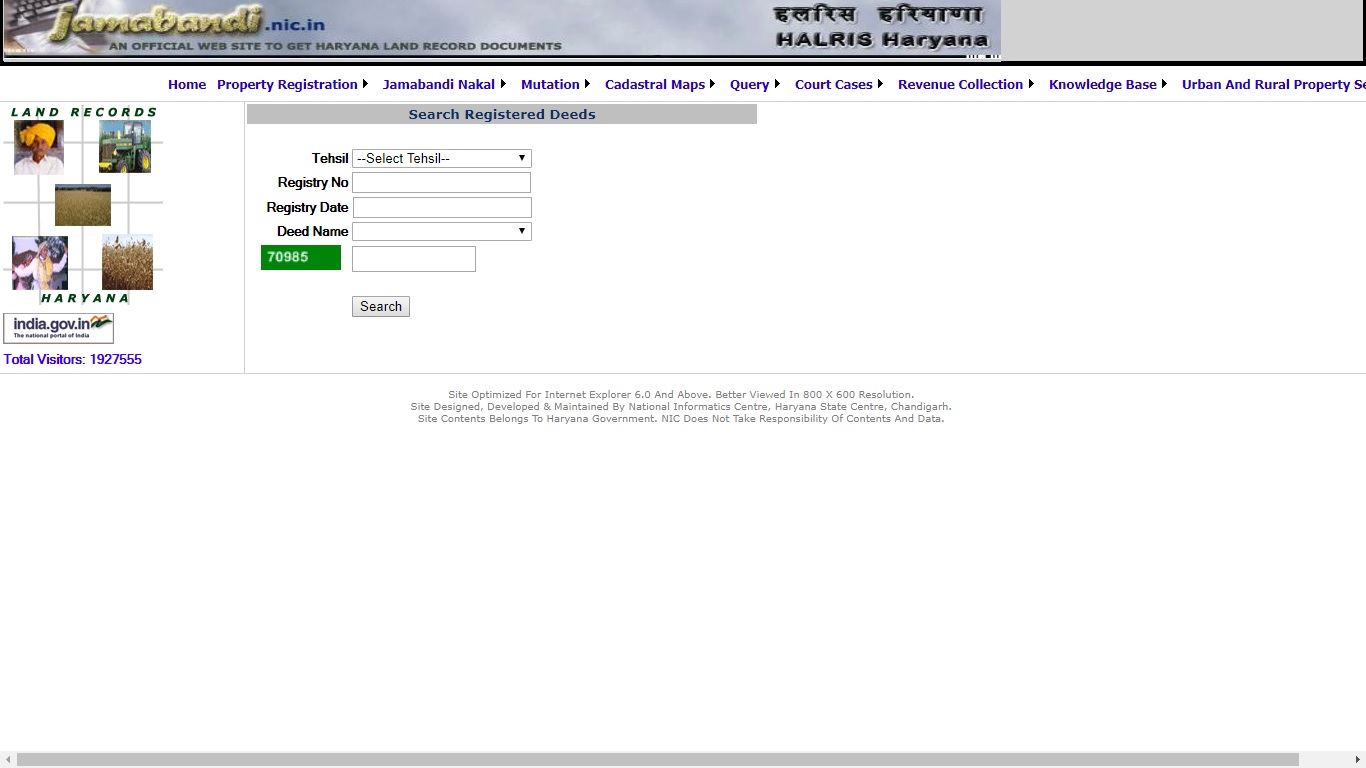 Step 3: In this page you need to enter Tehsil, Registry number, Registry Date, Deed Name.
Step 5: Enter the captcha in the given box and click on Search.