IndiaFilings
»
Learn » Legal »
Meghalaya Permanent Residence Certificate
Meghalaya Permanent Residence Certificate
Permanent residence certificate is proof of permanent residence of a person in a village or town or ward. This legal document certifies that the person who holds permanent residence certificate is a resident of the particular district or the state which issues this certificate. In this article, we look at the process of obtaining a Meghalaya Permanent Residence Certificate in detail.
Benefits of Obtaining Residence Certificate
The Permanent residence certificate needs to be furnished for various purposes. Importance of obtaining this certificate is listed as follows:
To get local preference, permanent residence certificate can be used in many situations.

For students to avail admission in an educational institution under quotas, permanent residence certificate is beneficial.

Permanent residence certificate is also mandatory for obtaining Government scholarship schemes.

For applying for a ration card, it is a crucial address proof.

This certificate can also be used for applying for Meghalaya Government job training where residents are preferred.
Eligibility Criteria
To apply for a permanent residence certificate in Meghalaya, the applicant should satisfy the following criteria: 
Permanent resident of the Meghalaya can only apply for this certificate.

A citizen who is holding land in Meghalaya are eligible to apply permanent residence certificate

If a woman does not formerly belonging to Meghalaya, but married a man who is a permanent resident of the Meghalaya, then she will be eligible to apply for a permanent residence certificate.
Documents Required
To obtain Meghalaya permanent residence certificate, you need to submit below-mentioned documents:
| | | |
| --- | --- | --- |
| S.No | Name of the document | Document enclosures |
| 1 | Birth Proof | Birth Certificate |
| 2 | Residential Proof | EPIC, Voter's Card, Electricity Bill, Patta, Ration Card, Any other Residential Proof |
| 3 | Identity Proof | Self, Parent, Guardian EPIC Card |
| 4 | Caste Proof | ST/SC Certificate of Self or Parent |
| 5 | Education Proof | Highest Education Proof only |
| 6 | Supporting Document | The document would state why PRC is required. Maybe prospectus of Institute or a letter to DC |
| 7 | Government Servant Proof | Parent's ID proof from the Department if in Govt. Service |
Fee for Residence Certificate
Fee for processing Meghalaya Permanent Residence certificate is Rs.25.
Validity of PR certificate
Permanent Residence Certificate is valid for life once obtained.
Applying Permanent Residence Certificate through PFC/ DC's Office
Guidelines for applying permanent residence certificate through MeeSeva franchise is explained in step by step procedure here.
Approach PFC/DC office
The applicant who opts to apply offline for the permanent residence certificate should visit the Deputy Commissioner Office or PFC office.
Submit Application
The applicant needs to submit an application in the prescribed format for a permanent residence certificate. Provide the following details in the application form
Applicant details such Name/DOB/Gender/Nationality

Parents details

Features for PRC – Higher Education and Training

Purpose of obtaining a certificate

Address

Self-declaration
Application for getting permanent residence certificate is below.
PRC

The concerned authority, i.e., PFC/DC, will process the permanent residence certificate, and after successful verification, the component authority will issue the permanent residence certificate request.
Apply Certificate through CSC Centers
To apply permanent Residence certificate through CSC centres, follow the step by step guidelines given here.
Step 1: Approach the CSC centre in your locality.
Step 2: Submit the application (furnished above) and other supporting documents to the CSC service operator.
Step 3: Service centre operator will forward the application online to the concerned authority for processing the certificate.
Step 4: Get a receipt with application number from CSC operator.
Note: You will receive an SMS to your registered mobile number regarding the progress of the application. After verifying the claim and supporting documents, the authority will issue a permanent residence certificate.
Step 5: Once you have received application approved SMS, Revisit CSC centre and provide application number.
CSC service operator will give you a Permanent Residence Certificate.
Applying Permanent Residence Certificate through e-District Portal
Step 1: Access the home page of e-district Meghalaya.
User Registration
Step 2: To avail certificate services in e-District Meghalaya portal, you need to register in this portal. Click on Register option from home bar.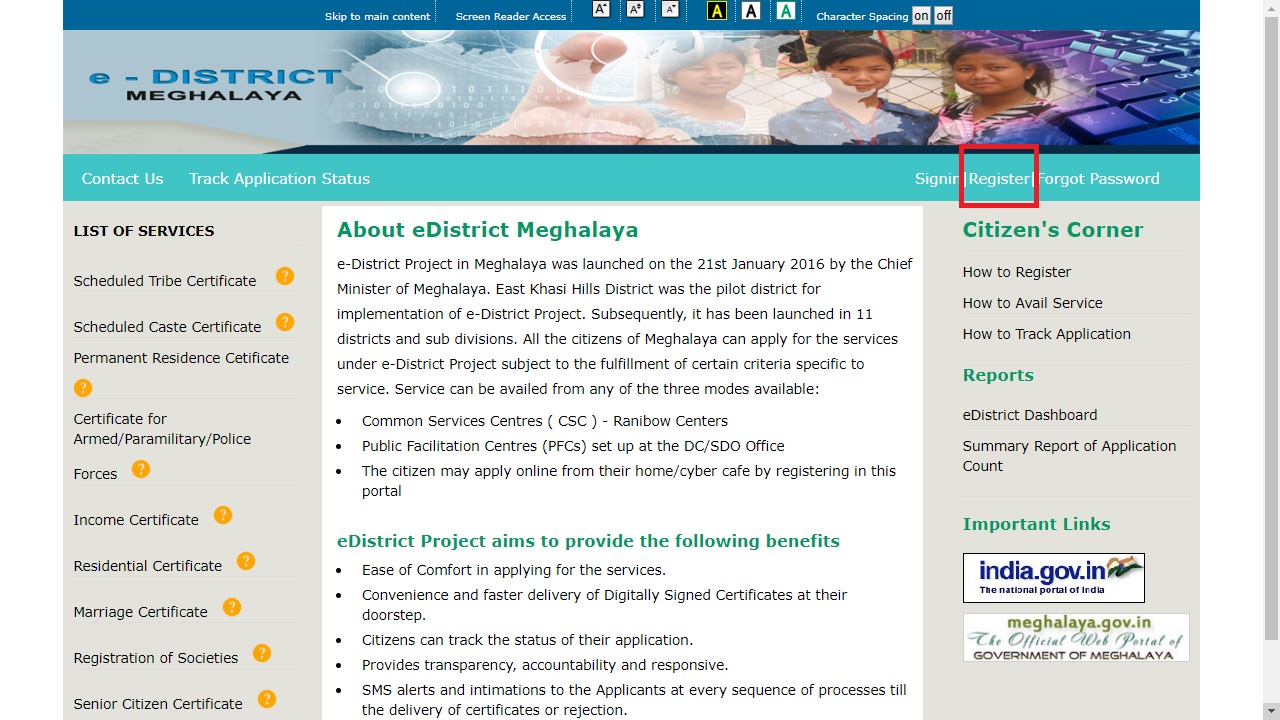 Step 3: Provide details for registration such as Name, Gender, Address, Mobile number, Mail id Login password and username.
Step 4: After providing all the details, click on the submit button to receive a confirmation mail to the registered email id. Click on the link to activate the account.
Step 5:  The verification process will be completed once the verification code provided.
Login to the Portal
Step 6: For applying permanent residence certificate login to the portal using the username and password.
Step 7: After you have successfully logged in, click on the Apply for Service option and then view Services.
Step 8: Select the Permanent Residence Certificate option.
Provide Details
Step 9: Fill in the application form for the residence certificate. Fill all the fields marked as mandatory.
Step 10: After the application form is filled completely, with CAPTCHA, click on the submit button at the bottom of the page.
Get Reference number
Step 11: The application form will be processed, and application reference number will be generated.
Upload Documents
Step 12: Click on Attach Annexure and Upload all required documents and Click on Save Annexure.
Step 13: After uploading documents, the applicant will be redirected to the main page. Click on Submit to finally submit the residence certificate application.
Note: An SMS with a reference number will also be sent to the registered mobile number.
Application Status
Step 5: Permanent Residence certificate application status will be updated through SMS. Also, check application status by visiting the e-District web portal.
Provide Following details to track application status:
Central/State Government Services

Select Meghalaya and permanent residence certificate from the drop-down menu.

Select the submission mode through which you have submitted the application

Provide a reference number or application number

Select the Date when the request was received

After providing the verification code, click on the submit button.
After providing details, click on the submit button to view the status of the application.
Download Certificate
After receiving "certificate issued" SMS on the mobile number login into the e-District portal for Downloading permanent Residence certificate.