Input Tax Credit for Imports
Home
»
Learn » Import - Export » Input Tax Credit for Imports
Input Tax Credit for Imports
Under the GST regime, input tax credit is provided for the IGST and GST Compensation Cess paid during import of goods into India. From 1st July, 2017, after the implementation of GST, all import of goods into India would be treated as inter-state supply. Hence, IGST would be applicable. In this article, we look at the input tax credit for imports in detail.
GST Registration Required for Importers
From 1st July, 2017, the procedure for importing goods into India is set to change with the implementation of GST. The new GST Bill of Supply requires GSTIN of the importer for levying IGST, GST Compensation Cess and tracking input tax credit. Hence, all importers would be required to obtain GST registration before arrival of goods into India.
Filing GST Bill of Entry
Once, GST is implemented, the Bill of Entry would change to take on record the importers GST. Importers having GSTIN can mention GSTIN on the bill of entry. Importers having provisional GSTIN can mention the provisional GSTIN on the GSTIN. All goods arriving in India from 1st July, 2017 would have to comply with the new regulations and pay IGST and GST Compensation Cess as applicable.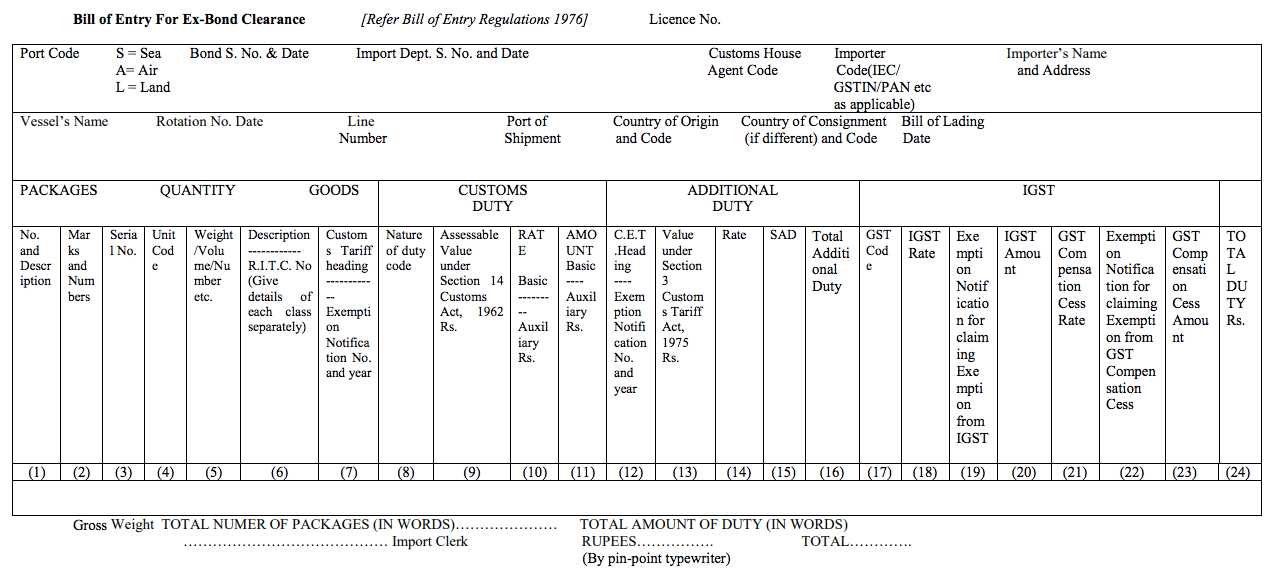 IGST Calculation for Imports
IGST and GST compensation cess is levied on the value of the imported goods. Value of imported goods is the aggregate of:
Value of imported article as determined under the Customs Act, 1962
Duty of Customs chargeable on that article underCustoms Act, 1962 and any sum chargeable on that article under any law for the time being in force as an addition to.
Further, value of imported goods used for calculating GST compensation cess and IGST would also include education cess or higher education cess as well as anti-dumping and safeguard duties. However, IGST is not added to the value for the purpose of calculating GST compensation Cess.
Although BCD, Education Cesses and IGST would be applicable in majority of cases, for some products CVD, SAD or GST Compensation cess may also be applicable. (Know more about different types of customs duty)
The procedure for calculating IGST on imports and GST compensation cess is shown in the illustration below: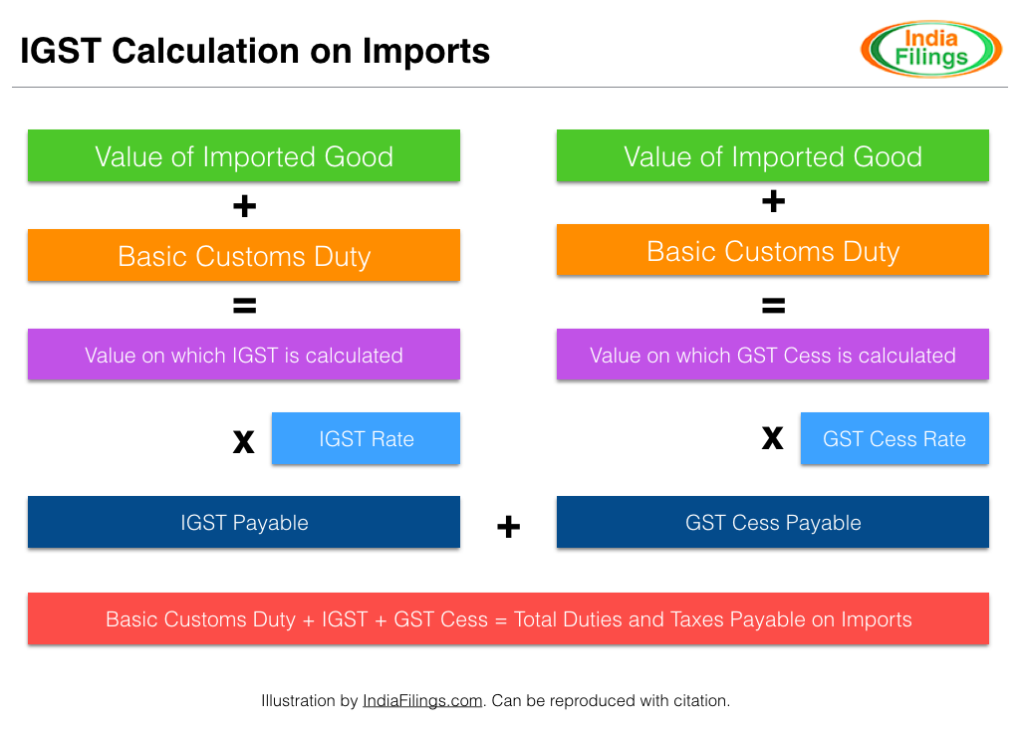 Input Tax Credit for Imports
Input tax credit of the integrated tax (IGST) and GST Compensation Cess is made available to the importer and later to the recipients in the supply chain. In order to avail input tax credit of IGST and GST compensation cess, an importer has to mandatorily declare GST Registration number (GSTIN) in the Bill of Entry. Further, GSTR-2 must be filed by the importer along with GST tax invoice and other relevant documents for claiming input tax credit. Its important to note that Basic Customs Duty (BCD) paid cannot be claimed as input tax credit.
Know more about GST in India at the IndiaFilings GST Portal.
Post by IndiaFilings
IndiaFilings.com is committed to helping entrepreneurs and small business owners start, manage and grow their business with peace of mind at an affordable price. Our aim is to educate the entrepreneur on the legal and regulatory requirements and be a partner throughout the entire business life cycle, offering support to the company at every stage to make sure they are compliant and continually growing.