IndiaFilings
»
Learn » Legal »
Manipur Domicile Certificate
Manipur Domicile Certificate
Domicile certificate is legal documents that certify a person's residential status in a state. Domicile certificate is also known as residence certificate. In this article, we look at the procedure for obtaining a Manipur domicile certificate in detail.
Benefits of Obtaining Domicile Certificate
Domicile certificate needs to be furnished for various purposes. Important benefits of obtaining domicile certificate are listed as follows:
To get local preference, domicile certificate can be used in many situations.

Using domicile certificate, students can obtain admission in educational institutions under certain quotas.

Domicile/residence certificate is mandatory for applying to certain scholarship schemes.

For obtaining a ration card, it is an important document to prove residency.

Domicile certificate can also be used for applying for State government jobs where residents are preferred.
Eligibility Criteria
Eligibility criteria to apply for domicile certificate in Manipur are as below.
Permanent resident of the Manipur can only apply for domicile certificate.

If a woman does not originally belong to Manipur but married a man who is a permanent resident of Manipur, then she will be eligible to obtain a domicile certificate.
Documents Required
To applying Domicile certificate in Manipur submit the following documents along with the application form.
Residential Proof: Documentary Evidence of Rented House (Photocopy of Land Deed/Documentary Evidence of Residential Land, Residential Certificate issued by S.D.O.
Identity Proof: Defence ID Card/Pan Card/Government ID Card/Passport/Driving License/Electors Photo Identity Card (EPIC)/Ration Card, Certificate by Gram Panchayat Pradhan/Certificate from MLA/Certificate from MP.

Birth Proof: Admit Card for Secondary Examination/Photocopy of Birth Certificate.

Passport Size Photograph.
Applicable Fee and Validity
Domicile certificate service does not require any payment. Once obtained, the Manipur domicile certificate will be valid for a lifetime.
Applying through CSC 
Step 1: Visit the nearest (Common Service Centre) CSC in your area.
Step 2: Submit the dully-filled application form along with all documents to CSC centre
Full Name

Father's or Husband's Name

Date and Place of Birth

Permanent Address

Self-declaration
Step 3: CSC person will forward the application online to the concerned authority. Further, the applicant will receive an application number for future reference.
Step 3: Also, the application will receive the status of the application to the registered mobile number and mail id.
Step 4:  After verification certificate will be issued, on receiving the application approved SMS, revisit CSC centre for obtaining a digitally signed domicile certificate.
Applying domicile through e-District Portal Online
Guidelines for applying Manipur domicile certificate through e-Pramaan Portal are as follows:
Step 1: To apply for domicile certificate, visit the official website of Manipur e-Pramaan Portal.
Step 2: From the home page of e-Pramaan website, select citizen login option.
Step 3: Select option 'Click here Login with e-Pramaan will redirect to the new page.
Step 4: Log in to the portal for availing certificate services provided by the Government.  
Step 5: New user can create the profile by clicking on 'Create account' option. The page will redirect to the new page. Register yourself using any of the following options:
Registration using Aadhaar Number

Registration using Driving Licence

Registration without Identity verification (not recommended)
Step 6: If you have selected Aadhaar number, enter your Aadhaar number to get an OTP to the registered mobile number. Provide the OTP for verification purpose.
Step 7: If you are using Driving Licence, enter driving licence number, date of birth and captcha code.
Step 8: Also, register yourself without any identity proof, but is not mandatory. By clicking on this option, you have to provide a few details such as Personal Details, Address Identity information, Additional information.
Step 9: After registration, log in to the portal using user name and password for applying Domicile certificate.
Step 10: Once you login to the portal, select Domicile as services option. Fill an application form, provide the following details.
Name

Age

Gender

Father's or Mother's Name

Permanent Residential Address
Step 11: Upload all relevant documents (refer above) along with your passport-size photograph.
Step 12: On successful submission of the application form, an acknowledgement slip will be generated. Note the application number for future reference.
Status of Application
Also, the applicant can check the status of the application by visiting Manipur e-Pramaan Portal. Select the Application Status option from home page.
Provide your application number and click on the Search button. Domicile certificate application will be displayed.
Download Certificate
On approving the application, the applicant can download the domicile certificate from the e-Pramaan portal.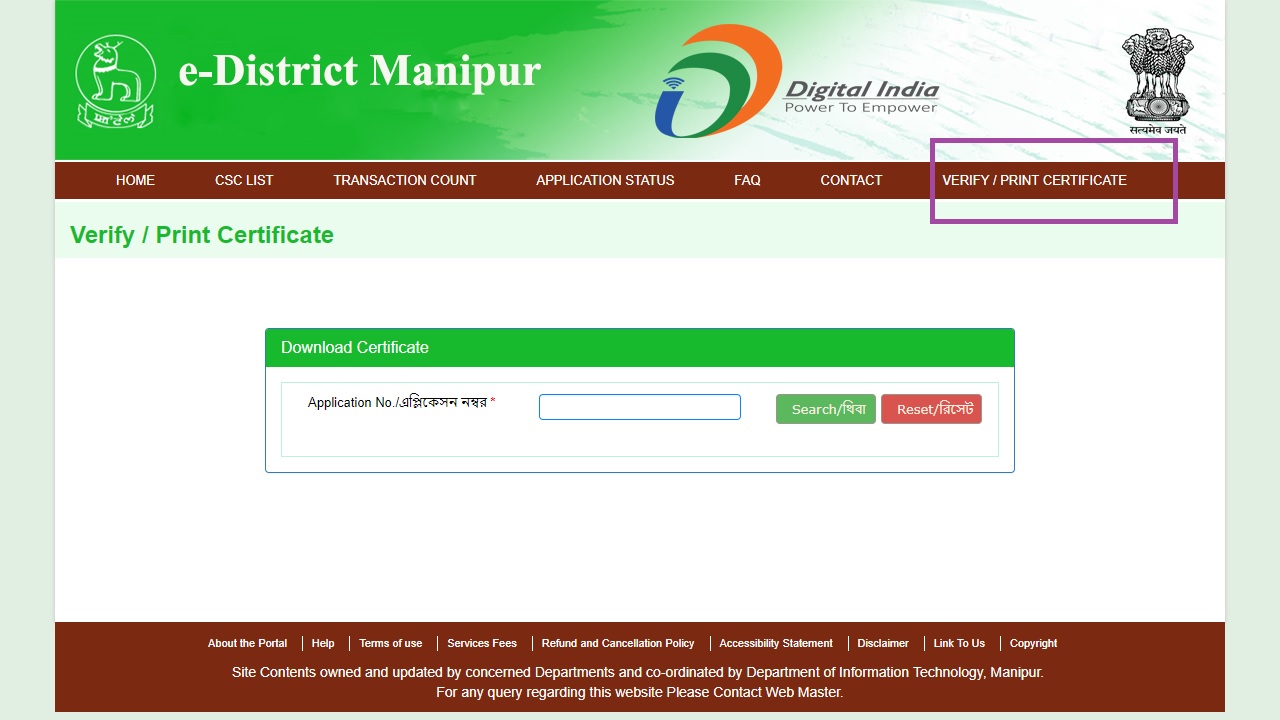 Click on verify/Print Certificate option from the menu bar, enter application number and click on the Click search button. After verification, the applicant can download the digitally signed domicile certificate.