Is Digital Signature Required for GST?
Home
»
Learn » GST » Is Digital Signature Required for GST?
Is Digital Signature Required for GST?
A valid class 2 digital signature is required for GST registration and GST filing in India. Under GST, all documents submitted to the Government including GST registration applications or documents uploaded to the GST common portal must be digitally signed. Hence, a class 2 digital signature must be obtained for the following person who is authorised.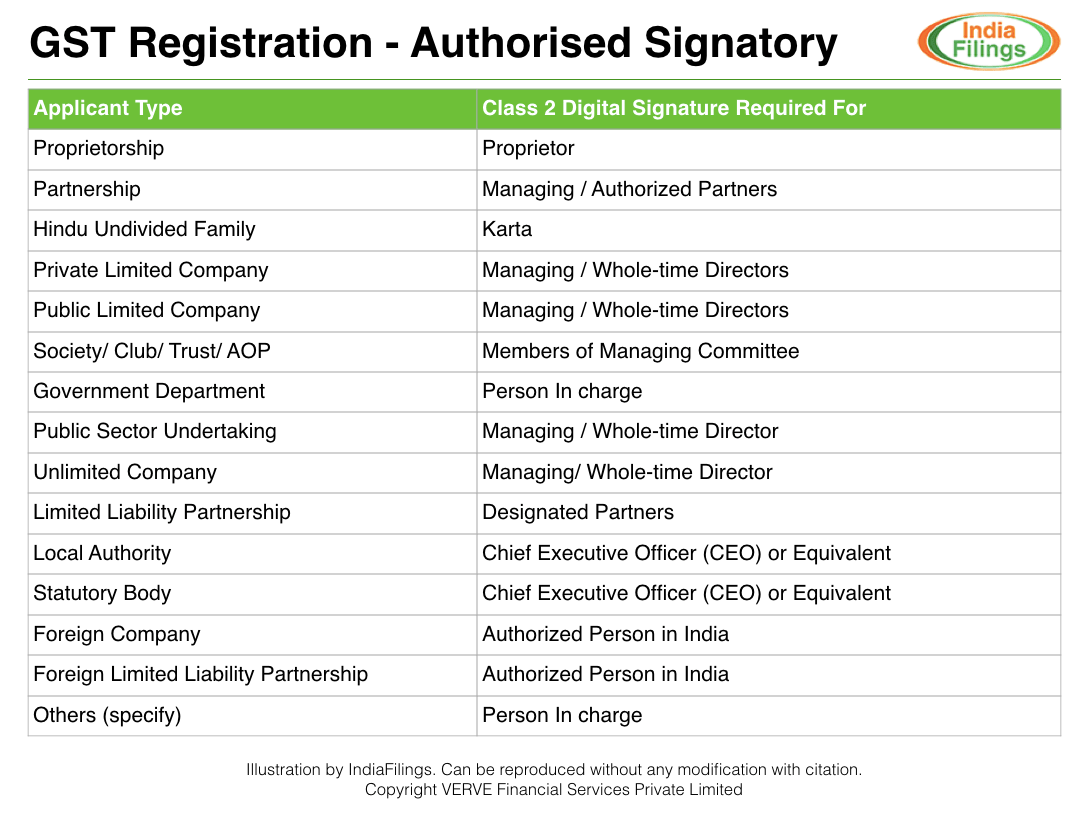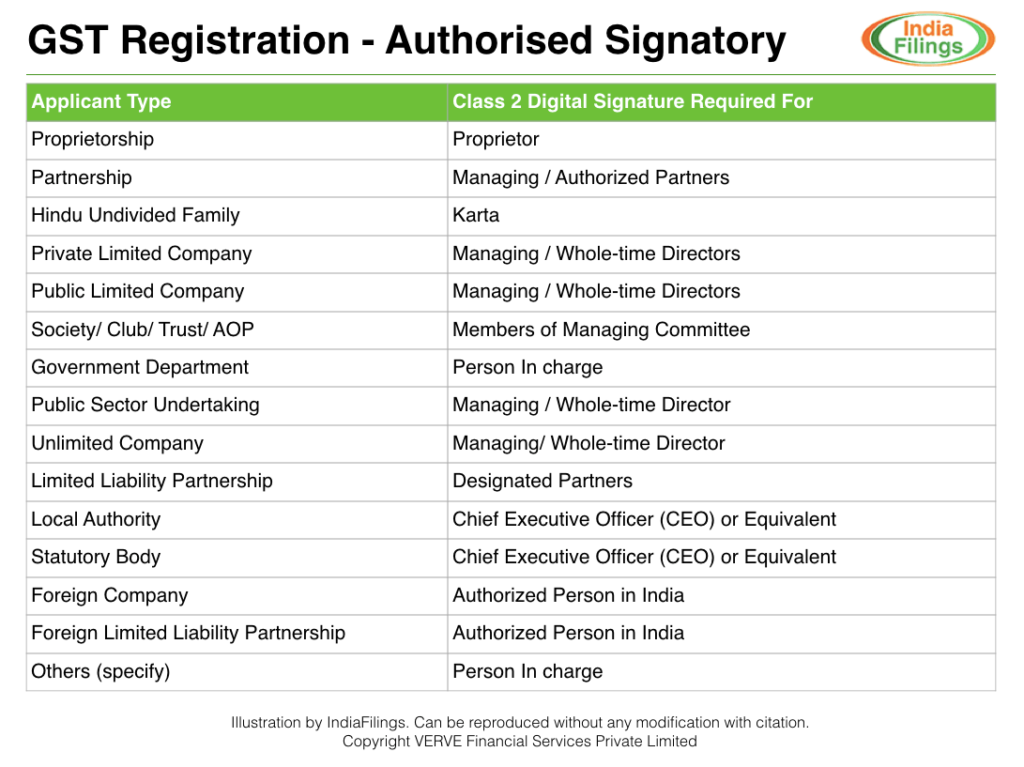 Class 2 Digital Signature
There are three types of Digital Signatures, Class 1, Class 2 and Class 3 Digital Signature. The individual shall use Class 1 type of Digital Signatures only for securing the email communication. Class 2 type of Digital Signatures are used for GST registration or filing, company or LLP registration, IT Return E-Filing, Obtaining DIN or DPIN, and filing other forms with the Ministry of Corporate Affairs and Income Tax Department. For E-Tendering and participating in E-Auctions, the concerned individual shall use Class 3 type Digital Signatures. Digital Signatures come in the form of a USB E-Token. The taxpayer can access the Digital Signature Certificate through the USB Drive with a computer to sign documents electronically.
Digital Signature Requirement for GST
As per the Information Technology Act 2000, all the applications, GST returns, GST registration application, reply to notices or any other document requires a digital signature. Hence under GST, the applicant must attach a digital signature certificate or e-signature.
The applicant shall use Class 2 DSC, digital signature certificate or with an Aadhaar based electronic verification code to sign the GST documents. The list of a person authorised to sign or verify a GST document is as below:
Proprietorship and Individuals
By the individual himself or absent from India by some other person duly authorized by the concerned individual in this behalf and unable to attend the meeting, by his guardian or by any other person competent to act on his behalf.
Hindu Undivided Family (HUF)
By a Karta but not physically present in India or mentally incapacitated from attending to the affairs, by any other adult member of such family or by the authorised signatory of such Karta.
Private Limited Company, One Person Company or Other Types of Company
For a private limited company or one-person company, the chief executive officer or Managing Director or authorised signatory nominated by the Board of Directors.
Limited Liability Partnership
By the chief executive officer or Designated Partner or authorised signatory. In case of Partnership Firm, a Partner or authorised signatory nominated by the Partnership Firm, who is not a minor.
Governmental Agency
In case of Government or any Governmental agency or local authority, by an officer authorised in this behalf.
Association of Members
In the case of any other association, by any member of the association or persons or authorised signatory.
Trusts
In the case of a trust, by the trustee or any trustee or authorised signatory.
For all Others
In the case of any other person including non-resident taxable persons under GST, by some person competent to act on his behalf, or by a person authorised by the taxable person under GST.
For GST registration, click here.
Post by IndiaFilings
IndiaFilings.com is committed to helping entrepreneurs and small business owners start, manage and grow their business with peace of mind at an affordable price. Our aim is to educate the entrepreneur on the legal and regulatory requirements and be a partner throughout the entire business life cycle, offering support to the company at every stage to make sure they are compliant and continually growing.