IndiaFilings
»
Learn » Business Startup »
StartupXY Incubation Program for Technology Startups
StartupXY Incubation Program for Technology Startups
StartupXY is a Zero Cost Incubation Program for Early Stage Technology Startups. The program creates funding and networking opportunities for startups. The selected Startup will get World-class Training, Networking, Intl Market opportunity, and Funding access. The current article briefs the procedure to apply for StartupXY Incubation Program for Technology Startups.
Note on StartupXY
StartupXY is a Global Fund, and a startup Incubator and Accelerator with a focus on Technology disruption. They seek early-stage Tech outliers whose business models can scale globally and have a workable Product/ Platform and are nearing the Go-Live or are in the Early-Revenue stage. The Incubator Program is for selected 8 Tech Startups only pan India.
Eligibility criteria for startups
The eligibility criteria for startups to participate in the Startup XY Incubation Program are as follows:
The startup should have a Minimum 2 co-founders to apply for Startup XY Incubation Program
The startup should be working to address large Total addressable market(TAM)
Disrupt using Technology – AI, Bio-Tech, SaaS, IoT, Blockchain, WebRTC, etc are eligible for this program
The startups must have a basic workable Product, not a prototype.
Eligible Startup for StartupXY
The following type of startups can apply for the incubation program:
Ideation Stage Startup
Validation Stage Startup
Early Traction Startup
Note: Relevant stakeholder is Incubator/ Mentor/ Individual
StartupXY Incubation Program Benefits
StartupXY Incubation Program provides the following benefits to startups:
140+ Hrs of Training
Value Discovery, Creation, Scale, and Impact KPI's Competition Analysis UX-UI-Gamification
Market Research and Analysis GTM and Channel Management
Branding and Strategy
Financial and Budgeting Elevator Pitch
Investor and Legal Access
Learn Elevator Pitch
Learn about Term Sheets
Legal assist for Contracts and IP
Access to Global Investors
Partnership Opportunites
Tech Evaluation
Current Tech Stack Audit
Architecture Scan
Deployment Pipeline
Economics of Platform
Insights on Ai, Data Analytics
Inhouse-advice on Tech Adoption
Understand No code to Low Code to Scaled Code
Data Security and PII
Localization
Intl Networking and Mentoring
Access to Domain experts
Access to Industry Events
World-Class Mentoring
Intl Market access through Channels
Learn from Doers of the Industry
Focus Area
StartupXY is looking to collaborate & work with startups in any of the following themes
Analytics & AR VR (Augmented + Virtual Reality)
Automotive & Animation
Computer Vision and Construction
Telecommunication & Networking
Aeronautics Aerospace & Defence
AI, Green Technology and Finance Technology
Enterprise Software and Design
Renewable Energy and Technology Hardware
Healthcare & Lifesciences
Internet Of Things and IT Services
Nanotechnology and Non- Renewable Energy
Media & Entertainment
Retail and House-Hold Services
Professional & Commercial Services
Sports and Social Network
Indic Language Startups
Transportation & Storage
Logistics, Travel & Tourism
Security Solutions and Airport Operations
Real Estate, Safety, and Robotics
Passenger Experience and Biotechnology
Toys And Games
Service Type
The relevant service type for StartupXY Incubation Program is as follows:
Government & Hyperlocal
Discovery & Location-Based Services
Manufacturing & Marketplace
Mobile & Offline
Online Aggregator & Peer To Peer
Platform & Consulting
Consumer Internet & Engineering
E-Commerce & Rental
Enterprise Mobility & Research
Sharing Economy & Social Enterprise
Subscription Commerce
Incentives Offered
The selected startups of the StartupXY Incubation Program will be offered the following type of incentives:
StartupXY Incubation Program offers World-class Applied Learning to guide the startup across all phases.
StartupXY Incubation Program offers 5 Months of Mentoring support and 100+ Hrs of Coaching will be provided to the Early Stage Technology Startups
Industry Networking opportunity will also be provided to Startup
Post Launch Funding opportunity at Growth stage will be provided for the selected Startup
Selection Process
The Five-Stage Selection Process for Startup XY Incubation Program is explained in detail below:
Stage 1- Pre-screening:   The eligible startups need to fill the form as published and upload the relevant documents as mentioned. After Pre-screening of the application, the selected startup will be announced.
Stage 2 – Online Pitch:  Startups will be called for Online Pitch and  Product Demo over Zoom Call to StartupXY Mentors.
Step 3 – Final Stake-holder screening: Founders Final screening will be done via Startup partners
Step 4 – 3rd Party Verification: Third-Party Verification of Screened Founders and Final Results announcements.
Step 5 – StartupXY-Onboarding: StartupXY-Onboarding post selection
Equity: Incubator will take Flat 6% Equity in return.
TimeLine of StartupXY Incubation Program
| | |
| --- | --- |
| Application Opens | 15th April 2021 |
| Deadline to Apply | 30th July 2021 |
| Application Result Date | 10th August 2021 |
Application Procedure
The Incubation Program Applications will be open till 30th July 2021. The applicant is required to access the official webpage of Startup India.
From the home page click on the Programs option and then select View all active programs.
By clicking on the Incubator Programme from the new page, the list of active programs will be displayed. Click on the StartupXY Incubation Program, the link will redirect to a new page.

StartupXY Incubation Program for Technology Startups – Incubator

Click on the apply now an option; the Startup India login page will be displayed. The existing users of Startup India can log in to the portal to apply for the program.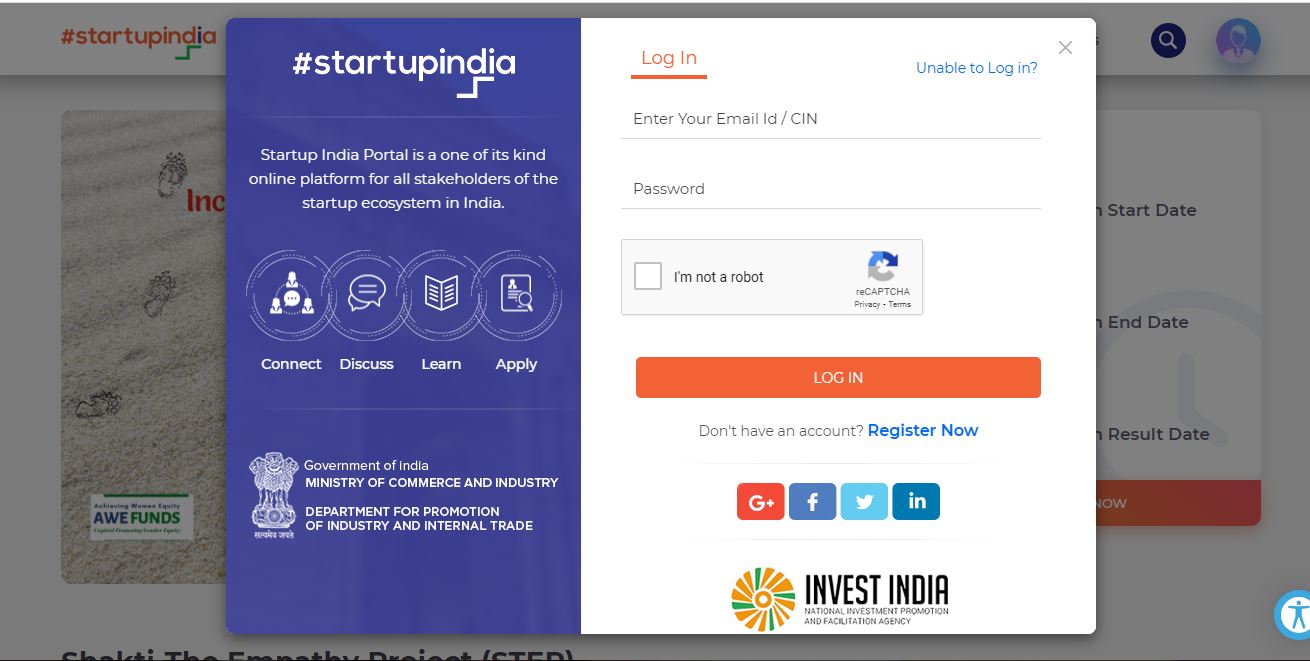 New users need to register on the portal to get the user credential. By clicking on the register now option, the applicant can provide all mandatory details for registration.
After login to the portal, the link will redirect to the StartupXY official page, where the applicant can apply.
Provide the following details in the application:
Company and Founder Name
Mobile and Email
Project Stage and Description of the Project
Project URL and Revenue Details
Paying Customers
Once the details are provided, upload the Pitch Deck and click on send option. The application will be forwarded to the concerned authority. The selected startups will get World-class Training, Networking, Intl Market opportunity, and Funding access.