IndiaFilings
»
Learn » State Governments »
Rajiv Gandhi Entrepreneurship Encouragement Scheme (RGEES)
Rajiv Gandhi Entrepreneurship Encouragement Scheme (RGEES)
The Government of Karnataka has launched Rajiv Gandhi Entrepreneurship Encouragement Scheme (RGEES) for young innovators and entrepreneurs. The key objective of this scheme is to encourage entrepreneurial minds to foster ideas and innovate them to become successful start-ups. Karnataka Government provides financial support to graduate and professional to pursue entrepreneurship under Rajiv Gandhi Entrepreneurship Encouragement Scheme (RGEES). In this article, we look at the Rajiv Gandhi Entrepreneurship Encouragement Scheme (RGEES) in detail.
Objectives of RGEES
Rajiv Gandhi Entrepreneurship Encouragement Scheme (RGEES) objectives are as follows:
To boost the Information Technology (IT) sector in Karnataka

To make entrepreneur ideas into a successful start-up

To build an innovation-driven entrepreneurial ecosystem

Socio-economic development in Karnataka

To create more job opportunities in Karnataka by minimising the number of job seekers

To make the self-employment system more efficiently
RGEES Grant to Entrepreneur
Under this scheme, the Government provides a grant to the entrepreneur to support start-ups:
| | | |
| --- | --- | --- |
| | RGESS Grant Amount | Duration or Validity |
| 1 | Maximum Amount – Rs.30,000 per month | 1 year |
| 2 | Minimum Amount – Rs.10,000 per month | 1 year |
Eligibility Criteria for RGEES
Eligibility criteria for Rajiv Gandhi Entrepreneurship Encouragement Scheme as follows:
Graduates who are not employed in any enterprise in Karnataka are eligible under the RGEES scheme

Professionals employed in an enterprise and are leaving his or her job for exploring their business idea can also apply for RGEES scheme

RGEES entrepreneur must be qualified to register as a start-up in Karnataka start-up cell

RGEES entrepreneur seeking support should demonstrate his or her ability to build a scalable technology business start-up

RGEES entrepreneur seeking support should have a formal business plan for the idea they intend to pursue and a business presentation, including the investment proposal
If any start-up has been a winner under IDEA2PoC, Elevate 100, Grand Challenges from the Department of IT, the startup will not be eligible to apply for RGEES support.
Documents Required
The following documents must be submitted for RGEES application:         
Aadhar Card

Voter ID

Secondary school mark sheet

HSC passing certificate

Degree certificate

Employment Certificate, in case of professional
Instruction for RGEES application
The background of the RGEES entrepreneur has to be provided while applying for this scheme

Entrepreneurs can propose only one technology business idea

Applicants should submit only one application form for the RGEES cell. In case of multiple applications from an applicant, only the first one will be considered valid, and the remaining will be deleted.

The applicant needs to pursue his or her entrepreneurial aspirations full time

Once the RGEES entrepreneur raises funding for his or her business idea, the grant support will be discontinued from the date of receipt of the first tranche of funds
Applying for RGEES Scheme Online
The applicant has to follow the below-mentioned step by step procedure to apply online for RGEES:
Step 1: Visit Start-up Karnataka official webpage
Step 2: To apply for RGEES, click on the apply now button at the bottom.
Enter Personal Details
Step 3: Fill all mandatory personal information:
Name

Mobile or landline number

Email ID

Permanent address

Correspondence address

Date of birth

Age

Nationality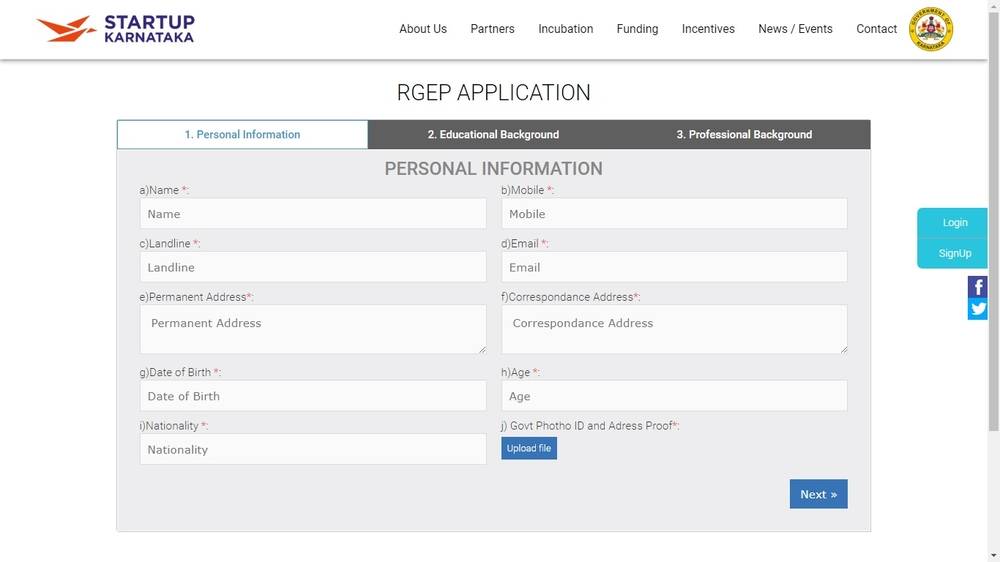 Step 4: Upload documents such as ID proof and address proof and click on Next.
Enter Education details
Step 5: Fill all details related to education and upload documents as mentioned above.
Professional Detail Section
Step 6: Fill the professional details on this page, upload employment certificate if any.
Step 7: To apply, click on Submit button.
RGESS Screening Process
Selection of RGEES entrepreneur will be carried out by following four screening process:
Pre-Screening
Pre-screening will be done by Start-up Cell, KBITS based on the eligibility criteria mentioned above and data sufficiency.
Screening by Jury Panel
The applicants will be shortlisted by an eminent jury consisting of industry representatives from relevant backgrounds based on the following parameters:
Novelty and innovation

Socio-economic impact

Business and revenue model

Capability
Shortlisted applicants will be informed via email id provided by the applicant in the online RGEES application form.
Final Pitch and Evaluation
Each applicant will be given six minutes to present, which will be followed by 4 minutes of Q&A by the jury. Based on the pitch, the jury is expected to arrive at a consensus on the recommendations concerning each applicant. 
Recommendations from the Evaluation Committee
RGEES Evaluation Committee will be doing a final and in-depth evaluation of winners on all parameters to recommend for the suitable financial grant from Government based on the scores and the recommendations by the Jury panel.
RGEES winners will be notified about the recommendations made by the Evaluation Committee via email id provided by them in the application form.
Popular Post