LLP Form 24 – Easily Close a LLP
Home
»
Learn » MCA » LLP Form 24 – Easily Close a LLP
LLP Form 24 – Easily Close a LLP
The Ministry of Corporate Affairs has recently amended Limited Liability Partnership Rules, 2009 by introducing the Limited Liability Partnership (Amendment) Rules, 2017 with effect from 20th May, 2017. With this amendment, LLP Form 24 has been introduced by the MCA and it is now possible to easily close a LLP by making an application to the Registrar for striking off name of LLP. In this article, we look at LLP Form 24 and the procedure for striking off name of LLP in detail.
Winding Up a LLP
The penalty for LLPs defaulting in filing of any statutory return is Rs.100 per day, without any maximum limit. Hence, its is often best to windup dormant LLPs so that there is no requirement to file LLP Form 11, LLP Form 8 and Income Tax Return for the LLP each financial year to maintain compliance and avoid penalty.
Before the introduction of the Limited Liability Partnership (Amendment) Rules, 2017, the procedure for winding up a LLP used to be long and cumbersome. However, with the introduction of LLP Form 24, the procedure has been made easy and simple.
Hence, its best for Entrepreneurs having dormant or defaulting LLPs that are accruing penalty to use this opportunity to close the LLP.
Filing LLP Form 24
The following procedure can be followed for closing a LLP by filing Form 24:
Step 1: Cease Commercial Activity
LLP Form 24 can be filed only by LLPs that never commenced business or have ceased commercial activity. Hence, if the LLP is operational and the promoters wish to close the LLP, the LLP must first cease all commercial activity.
Step 2: Close Bank Account(s)
LLP Form 24 can be filed only by those LLP that have no creditors and no open bank account. Hence, prior to filing LLP Form 24, any bank account opened in the name of the LLP must be closed and a letter evidencing closure of the bank account in the name of the LLP must be obtained from the Bank.
Step 3: Prepare Affidavits & Declaration
All the Designated Partners of the LLP must first execute an affidavit, either jointly or severally, that the Limited Liability Partnership ceased to carry on commercial activity from (Date) or has not commenced business.
Further, the LLP Partners must also declare that the LLP has no liabilities and indemnify any liability that may arise even after striking off its name from the Register. The liability of the Partners would not be extinguished even after closure of a LLP while using Form LLP 24.
Step 4: Prepare Documents
Along with Form LLP 24 the income tax return of the LLP and LLP deed must be enclosed. In case the LLP has not filed any income tax return and it has not carried on any business activity, then it is not required. Else, a copy of the acknowledgement of the latest Income-tax return filed must be attached with the application for closing the LLP.
Step 5: File Any Pending Documents
After incorporation of a LLP, the LLP agreement must be filed with the MCA within 30 days of registration. In case this compliance was missed and LLP agreement was not filed, then the initial LLP agreement, if entered into and not filed, along with any amendments must be filed.
Also, any overdue returns in Form 8 and Form 11 up to the end of the financial year in which the limited liability partnership ceased to carry on its business or commercial operations must be filed before filing LLP Form 24.  The date of cessation of commercial operation is the date from which the Limited Liability Partnership ceased to carry on its revenue generating business and the transactions such as receipt of money from debtors or payment of money to creditors, subsequent to such cessation will not form part of revenue generating business.
 Step 6: Obtain Chartered Accountant Certificate
Once all the documents for filing of LLP Form 24 is prepared, a statement of accounts disclosing NIL assets and NIL liabilities, that is certified by a practising Chartered Accountant up to a date not earlier than thirty days of the date of filing of Form 24 must be obtained.
Step 7: File LLP Form 24
The above mentioned documents along with LLP Form 24 (Download LLP Form 24) can be then filed with the MCA to strike off name of LLP. On processing the application, if found acceptable, the concerned Registrar of Companies would cause a notice to be published on the MCA website announcing the striking off of the LLP.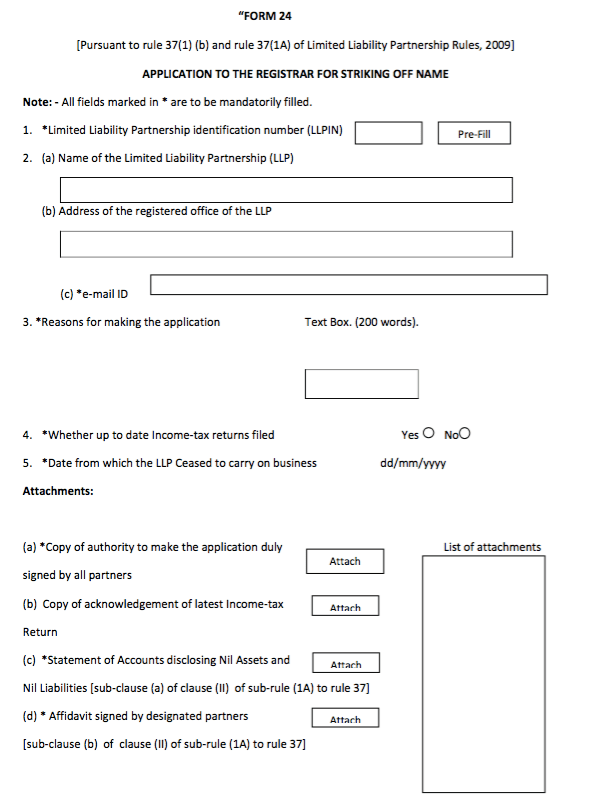 Click here to contact an IndiaFilings Business Advisor for Closing a LLP.
Post by IndiaFilings
IndiaFilings.com is committed to helping entrepreneurs and small business owners start, manage and grow their business with peace of mind at an affordable price. Our aim is to educate the entrepreneur on the legal and regulatory requirements and be a partner throughout the entire business life cycle, offering support to the company at every stage to make sure they are compliant and continually growing.