Income Tax Due Date Extension 2019
Guides » GST in India » Income Tax Due Date Extension 2019
Income Tax Due Date Extension 2019
Extension Beyond 31st August
The Income Tax Department for AY2019-20 has not extended the income tax due date beyond 31st August 2019. There is however a fake notification circulating in social media claiming income tax due date extension. The Income Tax Department has clarified that the notification is FAKE. The fake notification circulating on social media is reproduced below for reference: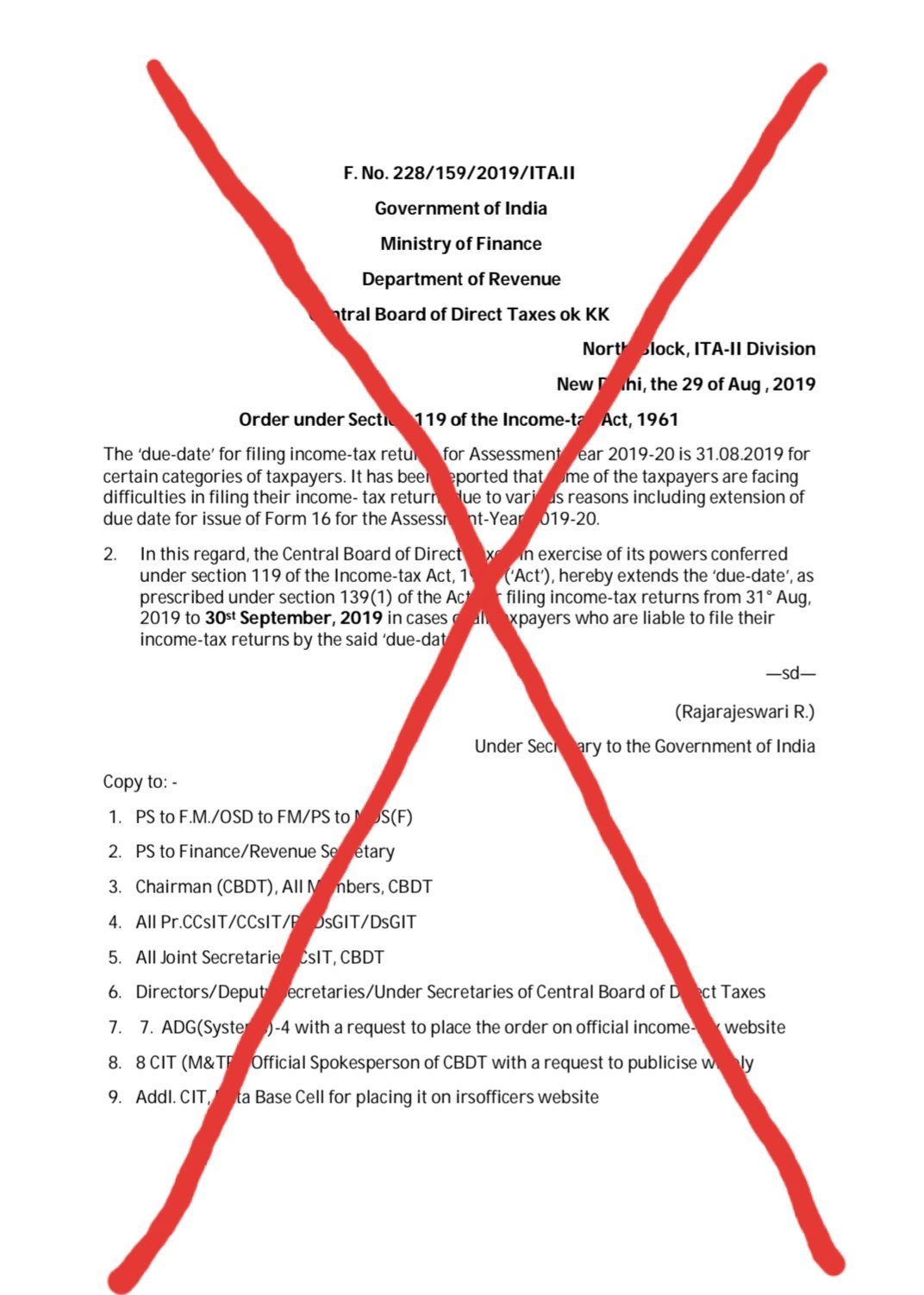 Earlier Extension
The Income Tax Department has extended the due date for filing FY2018-19 or AY2019-20 income tax returns from 31st July 2019 to 31st August 2019. The announcement for the same was made through the Income Tax Department official Twitter handle as follows:
The categories of taxpayers includes all taxpayers who were liable to file their Income Tax Returns by 31st of July, 2019 & can now file their Income Tax Returns by 31st of August, 2019.

— Income Tax India (@IncomeTaxIndia) July 23, 2019
In addition to the above twitter message, the notification was also released by the Income Tax Department as follows:
Want to Consult a GST Expert?
IndiaFilings provides the entire range of services required to register for GST and maintain GST compliance. We can help you obtain GST registration, generate GST invoices and file GST returns. Get in touch with our GST Experts for more information.
---
Income Tax eFiling
We have made the Income Tax eFiling, simple and easy. File your income tax return online with the dedicated Tax Experts support from IndiaFilings.
---
IndiaFilings.com (ERI ID: ERIA100945) is an Income Tax Department authorised eReturn Intermediary.
---
---