Income Tax Due Date Extension 2019
Home
»
Learn » Income Tax »
Income Tax Due Date Extension 2019
This article clarifies the position about a fake notification, purportedly issued by the Income Tax Department, which assures the deadline for filing income-tax returns has been extended beyond the previously mentioned due date.
Extension Beyond 31st August
The Income Tax Department for AY2019-20 has not extended the income tax due date beyond 31st August 2019. There is however a fake notification circulating in social media claiming income tax due-date relaxation. The Income Tax Department has clarified that the notification is FAKE. The fake notification circulating on social media is reproduced below for reference: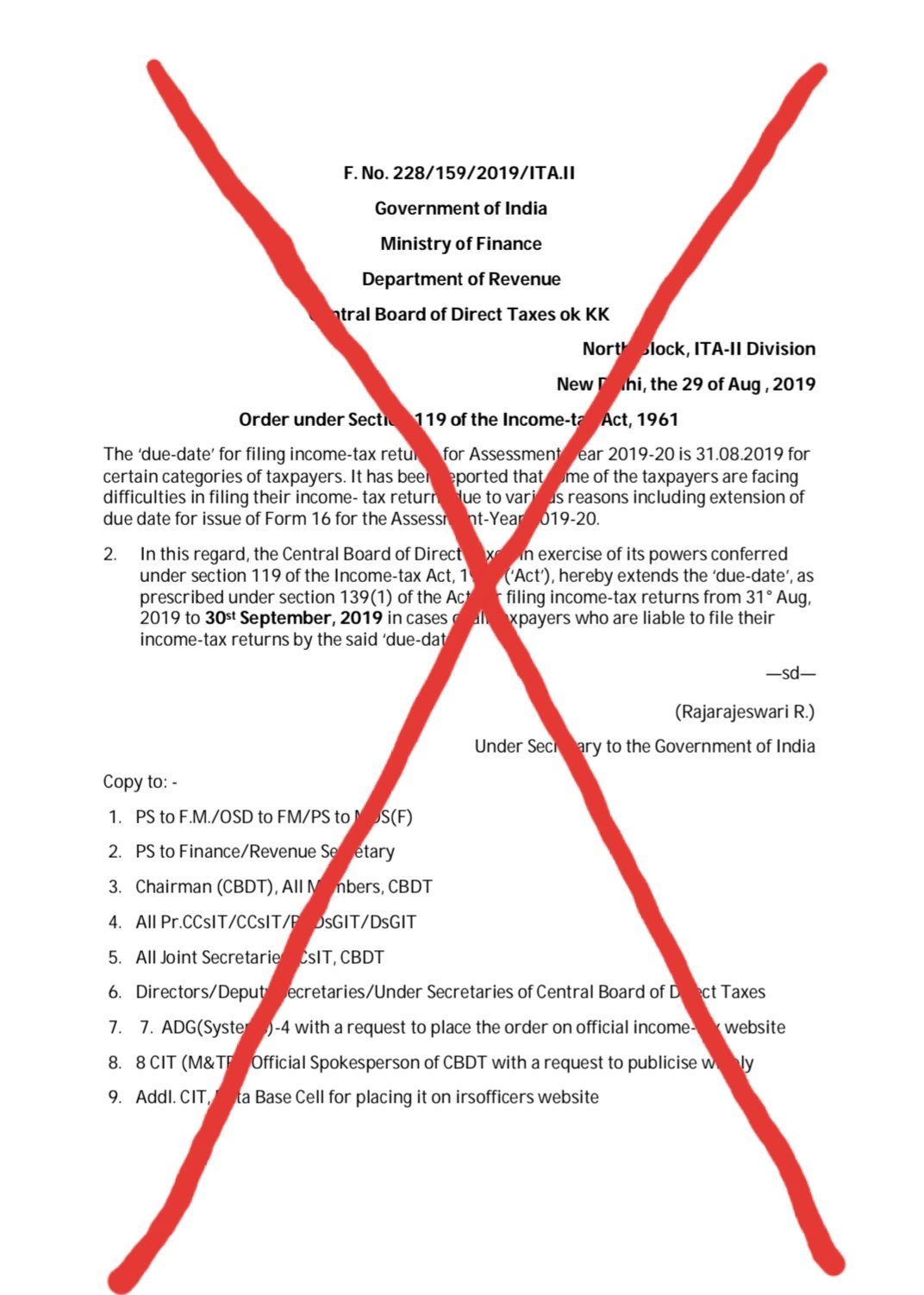 Earlier Extension
The Income Tax Department has implemented a due date extension for filing FY2018-19 or AY2019-20 income tax returns from 31st July 2019 to 31st August 2019. The announcement for the same was made through the Income Tax Department official Twitter handle as follows:
The categories of taxpayers includes all taxpayers who were liable to file their Income Tax Returns by 31st of July, 2019 & can now file their Income Tax Returns by 31st of August, 2019.

— Income Tax India (@IncomeTaxIndia) July 23, 2019
In addition to the above twitter message, the notification was also released by the Income Tax Department as follows:
Post by IndiaFilings
IndiaFilings.com is committed to helping entrepreneurs and small business owners start, manage and grow their business with peace of mind at an affordable price. Our aim is to educate the entrepreneur on the legal and regulatory requirements and be a partner throughout the entire business life cycle, offering support to the company at every stage to make sure they are compliant and continually growing.