IndiaFilings
»
Learn » State Governments »
Assam Non-Encumbrance Certificate
Assam Non-Encumbrance Certificate
Non-Encumbrance Certificate (NEC) is one of the most important legal documents that assure that a property is free from any monetary and legal liabilities. Non-Encumbrance Certificate primarily known as Search Certificate, it is evidence that particular property can be sold with a clear title and the ownership can be transferred without any litigation. Non-Encumbrance Certificate usually contains all the financial and legal transactions for a defined period that has been made concerning a particular property. Revenue & Disaster Management Department of Government of Assam issues the non-encumbrance certificate to citizens of Assam. In this article, we look at the procedure for obtaining Assam Non-Encumbrance Certificate in detail.
Importance of Non-Encumbrance Certificate
Importance of obtaining Assam encumbrance certificate is explained in detail below.
Non-Encumbrance certificate (NEC) must be provided to obtain property loan from financial institutions & Banks to ensure that the property is free from legal liabilities.

NEC is evidence of ownership title. Hence it's required for transferring property.

In case of property/land tax is not paid for more than three years, this NEC has to be furnished with Panchayat/ Village Officer to update the land tax records.

The Non-encumbrance certificate is an important document to withdraw PF for a property purchase or house construction.
Contents in Non-Encumbrance Certificate
The following details relating to the property will be recorded in the Non-Encumbrance certificate.
This certificate will contain the name of the property owner

Non-Encumbrance Certificate contains all details of a Particular Property

NEC will provide the complete property description as provided in the Sale Deeds

NEC contains Transactions related to a property. The transactions details will be listed in chronological order.
If a property bought by a loan, then this certificate will contain details about the mortgage.

For gifted deeds, details regarding gift settlement will be given in NEC.

Release Deed details will be recorded in case of one of the partner released his share from the mutually purchased land/plot.
Applicable Fee for Non-Encumbrance Certificate
Applicant has to apply for the NEC in their respective SR offices for searching of particular property whether is encumbered or not. For this purpose inspection of search fees that is index searching fees is required. The fee structure is tabulated here.
| | | |
| --- | --- | --- |
| S.No | Service | Fee |
| 1 | Inspection of the search of the index for the first year     | Rs.5 |
| 2 | Review of the pursuit of index every additional year | Rs.3 |
| 3 | Examination of a copy of each document in the register book including files of copy memorandum and sale certificate    | Rs.5 |
| 4 | A search of inspection of any other register for any particular year    | Rs.5 |
| 5 | When the document needs to be furnished within three days from the date of application     | Rs.20 |
Documents Required
Documents required for getting Search certificate or Non-Encumbrance Certificate is listed as follows.
Land deed or Land Record

Jamabandi copy

Land Revenue Receipt

Khajana Receipt
Time Frame
Non-Encumbrance certificate will be issued within 15 days from date of application.
Applying Non-Encumbrance Certificate through CSC
Procedure for applying Non-encumbrance certificate through CSC is explained in detail here.
Step 1: Applicant has to approach the nearest CSC centre.
Submit an Application
Step 2:  The applicant needs to submit an application in prescribed format for non- encumbrance certificate at CSC Centre. Provide details of land, year of inspection and Registered office name.
ISSUE OF NON ENCUMBRANCE CERTIFICATE

Fee Payment
Step 3: Pay applicable fee as per your search criteria to CSC operator for searching details for encumbrance and issue non-encumbrance certificate. Get acknowledgement slip with application number from CSC operator. Note the application number for future reference.
NEC Processing
Step 4: The request for encumbrance certificate will be processed online through Assam Revenue Department. NEC application status will be updated through SMS.
Step 5: The concerned authority, i.e., Sub Registrar officer, will process the non-encumbrance certificate online and after successful verification, SRO will approve the non-encumbrance certificate request.
Once the NEC request is accepted, an SMS will be sent to the registered mobile number as the application has been approved.
Get Non- Encumbrance Certificate
Once SRO approves the request, then Non-Encumbrance Certificate can be obtained from CSC centre. Provide application number and get a non-encumbrance certificate.
Applying for Non-Encumbrance Certificate Online
Non-Encumbrance certificate can be obtained online through the website of the e-District portal of Assam. Here is a step by step guide to using online for Assam non-encumbrance certificate.
Step 1: Access home page of the Official website of Government of Assam.
User Registration
Step 2: You have to register in the portal for availing certificate services. Click on sign-in option from home page.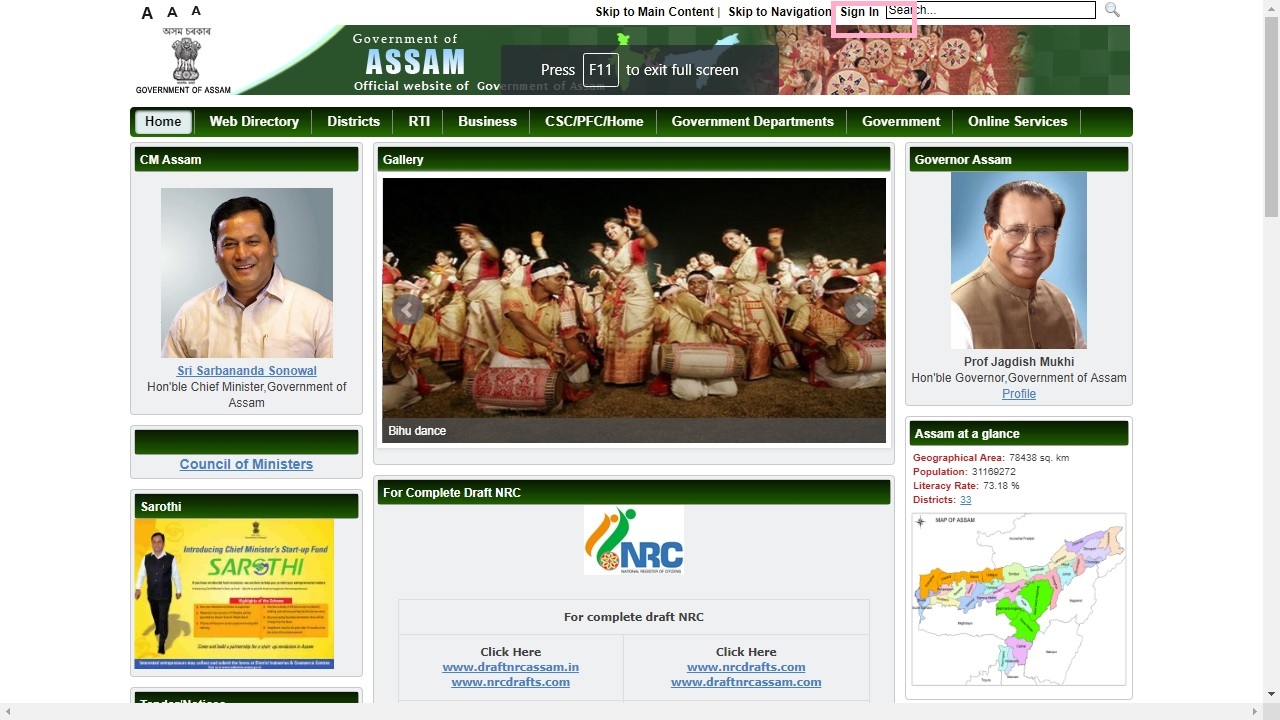 Step 3: The link will redirect to the login page, click on Create account option for the register in e-District.
Step 4: Provide details such as Name, Email ID, Gender and Date of Birth. After txt verification click on save.
Login to the Portal
Step 5:  Upon registration, the activation link will be sent to the registered mail ID. Click on that, your account will be activated. You can now log in to the e-District portal using username and password.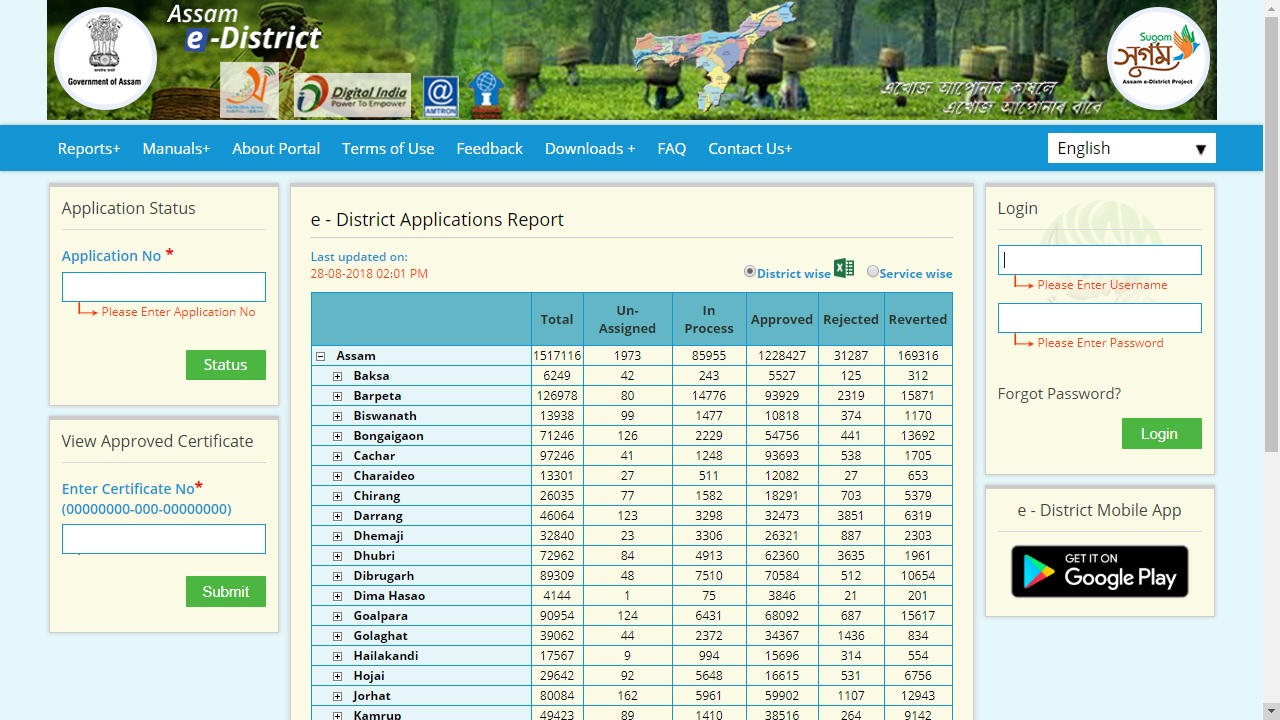 Provide Property Details
Step 6: After login to the portal, select certificate service as NEC. The link will redirect to the next page.
Provide Property related details; Relation of Petitioner with the deed
Year of Inspection

Circle Name of land and Mouza of land

Patta Number and Dag Number

Area of Land and Nature of Deed

Name of the office where Registered

Fee Deposited
You can save the details by clicking on save and next button.
Make Payment
Step 7: You can make fee payment online by a secured payment gateway, through Assam online page.
Step 8: The payment can be made directly to the Assam online account and subsequently the searching fee will be transferred to concerned Treasury.
Step 9: After a successful payment, a receipt will be generated, and the task is redirected to the concerned sub-registrar's login.
Status of Application
Once an application for NEC is submitted online and prescribed fees are paid, concern SRO will process the non-encumbrance certificate and issue the same. You track application status online through Assam e-District Portal.
Provide application number and click on status, NEC application status will be displayed.
View and Download Approved Certificate
Once the concerned authority approves the request, the non-encumbrance certificate will be digitally signed by Sub-Registrar. Approved certificate number will be updated through registered mail ID.
You can download digitally signed Encumbrance certificate from the e-District portal. Provide certificate number and click on submit. After verifying all details in NEC download Assam Non-Encumbrance certificate.