IndiaFilings
»
Learn » Income Tax »
TDS on Property Purchase
TDS on Property Purchase
Tax Deducted at Source (TDS) refers to the tax withheld by a payer of income, on a payment made to a recipient. TDS applies to payments made in connection with the purchase of an immovable property. Any person who purchases a property from a resident transferor is required to deduct tax at source (TDS) on any money or consideration paid. In this article, we look at TDS applicable on a property purchase.
When is TDS on Property Purchase Required?
TDS must be deducted from all immovable property purchase. Immovable property means land or any building, other than agricultural land. In the following cases, TDS on property purchase is not required:
When the immovable property transferred is rural agricultural land.
When the immovable property is being compulsorily acquired under any law by the Government.
When the total amount of consideration paid for the purchase of immovable property is less than Rs.50 lakhs.
TDS must be deducted during a property purchase at the time of transfer of money to the account of property seller or at the time of payment of any money in cash or by cheque or demand draft.
TDS Rate on Property Purchase
The TDS rate for property purchase is 1%. Surcharge and secondary and higher education cess (SHEC) need not be added. If the property seller does not have PAN or if PAN is not quoted, then TDS must be deducted at the rate of 20%.
Procedure for Remitting TDS Deducted on Property Purchase
Any amount deducted as TDS on property purchase must be remitted electronically within seven days from the end of the month in which deduction was made to any of the banks authorised as below:
Allahabad Bank
Andhra Bank
Axis Bank
Bank of Baroda
Bank of India
Bank of Maharashtra
Canara Bank
Central Bank of India
Corporation Bank
Dena Bank
HDFC Bank
ICICI Bank
IDBI Bank
Indian Bank
Indian Overseas Bank
Jammu & Kashmir Bank
Oriental Bank of Commerce
Punjab and Sind Bank
Punjab National Bank
State Bank of India
Syndicate Bank
UCO Bank
Union Bank of India
United Bank of India
Vijaya Bank
Payment of TDS on property purchase can be done only through online payment or at any of the banks above. The payment must be accompanied by a challan in Form 26QB.
Form 26QB
Form 26QB is the name of the challan which should be submitted to the Income Tax Department at the time of remitting the TDS amount to the Government.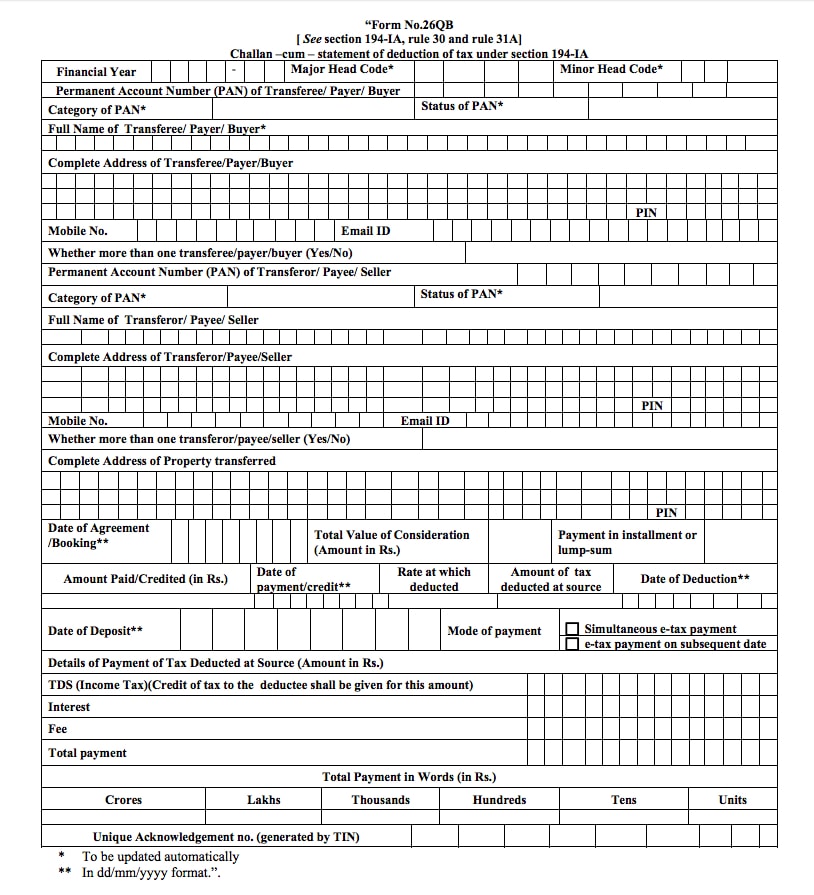 Form 26QB can be generated and submitted online on the TIN Network website.
Form 16B
All persons responsible for TDS on property purchase are required to furnish a TDS certificate to the seller in Form 16B within 15 days of the due date of filing Form 26QB. Form 16B format is attached below for reference:
Form 16B

To prepare and download Form 16B, the taxpayer can follow the steps mentioned below:
Login to TRACES.
Go to Downloads tab.
Select Form 16B.
Enter the details and click on go.
To know about the concept of Tax Audit Turnover in Income Tax, click here.