Motivational Quotes for Business
Home
»
Learn » Business Startup »
Motivational Quotes for Business
A collection of motivational quotes for startups and businesses. Visit the IndiaFilings Learning Center for more quotes from Entrepreneur and Business Leaders.
Motivational Quote from Kevin Systrom, Instagram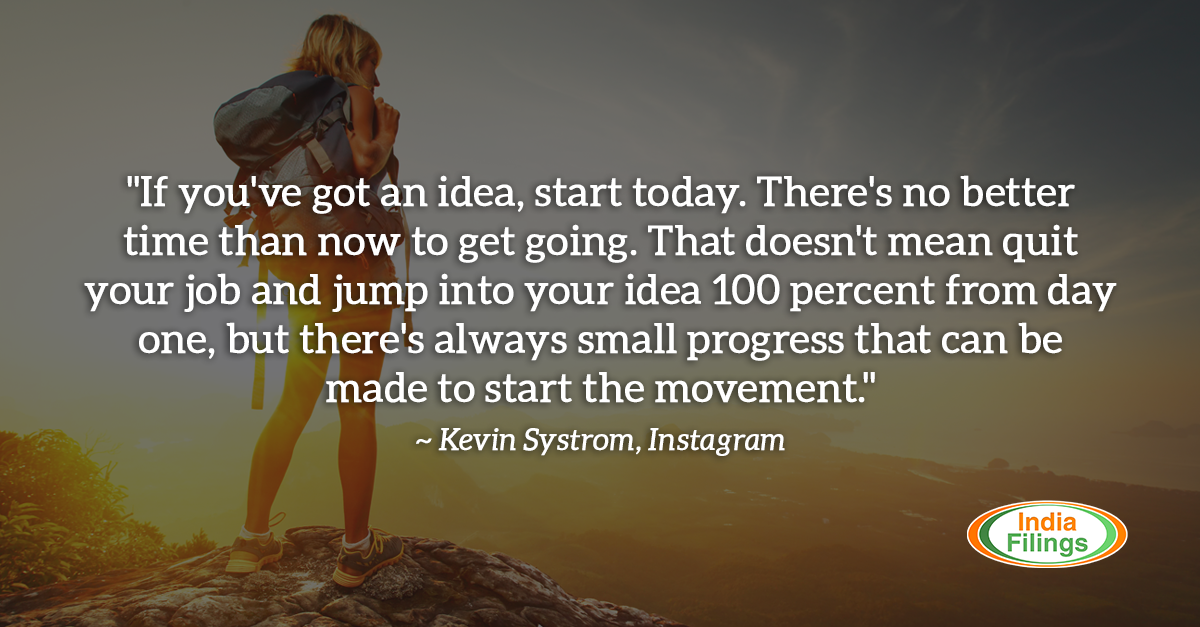 "If you've got an idea, start today. There's no better time than now to get going. That doesn't mean quit your job and jump into your idea 100 percent from day one, but there's always small progress that can be made to start the movement." Kevin Systrom, Instagram
Motivational Quote from Adam Horwitz, Mobile Monopoly
"The hardest part about being an entrepreneur is that you'll fail ten times for every success." – Adam Horwitz, Mobile Monopoly
Motivational Quote from Elon Musk
"Failure is an option here. If things are not failing, you are not innovating enough."- Elon Musk
Motivational Quote from Ben Weissenstein
"Everything started as nothing." – Ben Weissenstein
Motivational Quote from Emil Motycka of Motycka Enterprises
"The earlier you start, the more time you have to mess up." – Emil Motycka, Motycka Enterprises
To start a business in India, visit IndiaFilings.com
Post by IndiaFilings
IndiaFilings.com is committed to helping entrepreneurs and small business owners start, manage and grow their business with peace of mind at an affordable price. Our aim is to educate the entrepreneur on the legal and regulatory requirements and be a partner throughout the entire business life cycle, offering support to the company at every stage to make sure they are compliant and continually growing.