How to Get Halal Certification in India
Home
»
Learn » Business Startup » How to Get Halal Certification in India
How to Get Halal Certification in India
Halal Certificate is obtained majorly food and food-related products, Which is needed in the Islamic countries. Halal is a term from the Quran that means "permitted" or "lawful". Therefore, in relation to food, Halal is used for food and other consumables that are permissible for consumption and used by Muslims, based on Islamic law, the Shariah. Halal promotes cleanliness in all aspects of a person and halal foods ensure that food consumed by a person in their daily lives are clean, hygienic, and not detrimental to their health or well-being. Having a halal certification ensures that the food product is deemed safe for consumption and with rising awareness about Halal foods, more and more businesses are seeking Halal Certification for their products, premises, restaurants, etc., In this article, we look at the procedure for obtaining Halal Certification in India.
Halal Certification
Halal Certification is provided by Halal Certification Bodies in India. There are various Halal Bodies and a few of the Halal Bodies in India are listed below:
Halal India Private Limited
Halal Certification Services India Private Limited
Jamiat Ulama-E-Maharashtra – a State unit of Jamiat Ulama-E-Hind
Jamiat Ulama-i-Hind Halal Trust
Businesses wishing to obtain Halal certification in India can approach any of the above Certification Bodies for obtaining Halal certification. While providing Halal certification, a competent authority audits and ensures that the business:
Neither is nor consists of or contains any part or matter of an animal that a Muslim is prohibited by Shariah to consume or that has not been slaughtered in accordance with Shariah.
Does not contain anything which is considered to be impure according to Shariah.
Has not been prepared, processed, or manufactured using an instrument that was not free from anything impure according to Shariah; and
Has not in the course of preparation, processing, or storage been in contact with or close proximity to any food that fails to satisfy paragraph (a) (b) or (c) or anything that is considered to be impure according to Hukum Shariah.
Types of Halal Certification
Based on the nature of the business, the type of Halal certification varies. Most frequently, Halal certification is obtained for places like restaurants, hotels, slaughtering houses, packaging, and labeling materials to ensure they are suitable to be visited/used by Muslim consumers. However, Halal certification is not limited to only food produce. Non-alcohol beverages, raw materials needed in food processing, pharmaceutical, and health care products, traditional herbal products, cosmetics, and personal care products, cleaning products, and daily consumable products can also obtain a Halal Certificate. Therefore, obtain the Halal Certification from Halal Certification Bodies – broadly under the following schemes:
Food, Beverage and Catering Scheme
Restaurant Scheme
Industrial Scheme
Abattoir Scheme
Warehouse or Storage Scheme
Product Endorsement Scheme
Halal Certification Procedure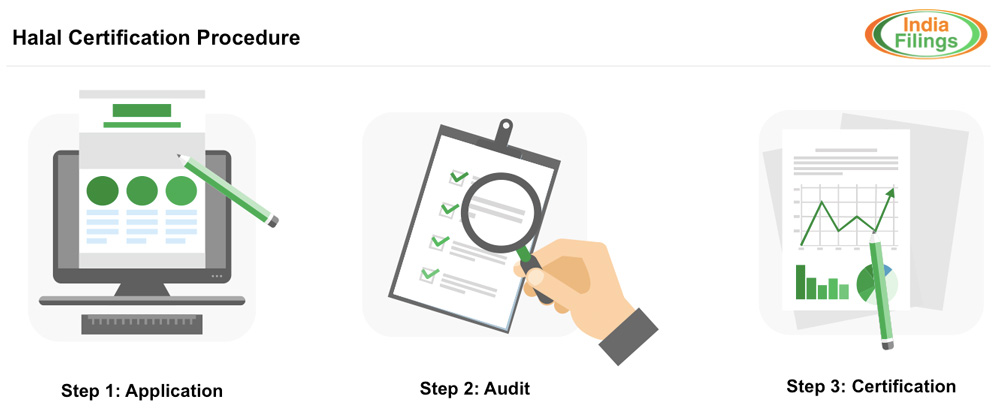 Step 1: Application
The business wishing to obtain Halal Certification must apply to one of the Certification Bodies. It is important for the business to be aware of Halal Certification requirements at this stage and ensure that it is compliant with Halal requirements, Halal systems requirements, and Halal staffing requirements.
Step 2: Audit
Once the application information is verified, Auditors (usually one Shariah Auditor and one Technical Auditor) will visit the business for inspection. The Auditors will verify if the following areas are acceptable for Halal Certification:
Documentation
Processing, handling, and product distribution
Storage, display, and product serving
Cleanliness, sanitary, and food safety
The overall aspects of the premises
Tools, apparatus, and machines
Packaging and labeling
During the audit, the business might have to provide criteria of acceptance of raw materials (ingredients), certificate of analysis, and Halal certificate of individual ingredient. Once, the audit is completed, an audit report will be prepared and signed by both parties.
Step 3: Certification
Once the Halal audit is complete, a Technical Committee will review the documents submitted by the business and the audit report submitted by the Auditors. If the audit report is satisfactory and the business and/or products satisfy the Halal certification criteria, then the Halal Certification Body issues the Halal Certificate.
Benefits of Halal Certification
Obtaining Halal Certification has various advantages and could provide an edge for business amongst competitors. The following are some of the major benefits of obtaining Halal Certification for a business or product:
Make the business or product marketable to over 2 billion people across the world.
Use of the Halal logo
Enhance the marketability of the product in Muslim countries
Improve the quality of the food or product or hygienic systems
Improve the quality of the food or product
For more information about Halal Certification, contact an IndiaFilings.com Business Advisor
Post by IndiaFilings
IndiaFilings.com is committed to helping entrepreneurs and small business owners start, manage and grow their business with peace of mind at an affordable price. Our aim is to educate the entrepreneur on the legal and regulatory requirements and be a partner throughout the entire business life cycle, offering support to the company at every stage to make sure they are compliant and continually growing.