Domicile Certificate in Kerala
Guides » Kerala Government » Domicile Certificate in Kerala
Domicile Certificate in Kerala
Domicile certificate or Residence Certificate is an essential legal document for proving that a person is having a residence in a State. Domicile certificate allows a person to claim various facilities and schemes provided by the Kerala government. In this article, we look at the procedure for obtaining domicile certificate in Kerala.
Purposes of Obtaining Domicile Certificate
Domicile / Residence certificate is used for many purposes. Some of the important benefits are listed below.
Domicile Certificate is used to get local preference in many situations.

Using Residence certificate students can get admission in an educational institution.

To prove a claim, for a ration card it is an important document.

Residence certificate is also used to avail quotas in education.

You can use Domicile certificate to apply Government jobs where residents are preferred.

Students can use this certificate to apply for scholarship schemes
Eligibility to get Residence Certificate
Eligibility criteria to get Residence/Domicile certificate in Kerala is given here.
The person must be a resident of Kerala

More than ten years of residence in the state.
Documents Required to Apply for Domicile Certificate
You need to submit below-mentioned documents to apply for Domicile certificate. 
Ration card

Address proof – passport, voter card, ration card, electricity bill, water bill, telephone bill

House tax receipt

Birth Certificate or SSLC certificate

Identity Proof

You have to produce property details if any property owned by your  parents or guardian

Application form (In case applying through Akshaya centers)

To register in e-District portal, you must have valid Aadhaar Card, Mobile number, Email ID
Time frame to get Residence certificate
Residence certificate will be issued within five days from the date of application.
Fee Structure
Akshaya Center Fee
Fee to apply Domicile/Residence Certificate in Akshaya center is Rs.28.This amount includes Akshaya service charge & Government service charge. The fee structure is as follow. 
Akshaya service charge – Rs.18

Government service charge – Rs.7

For scanning /printing – Rs. 3 per page
Note:  SC / ST families need to pay only Rs.12 & BPL families need to pay Rs.20. 
If you are applying through e-District online portal Rs.15 to be paid.
Apply Domicile /Residence Certificate through Akshaya Centers
To apply domicile certificate / Residence certificate through Akshaya centres follow the below-mentioned steps.
Step 1: Visit Akshaya Centre near to you
Step 2: You can get an application for Akshaya Centres.
Step 3: Fill all details in the application & submit the application to Akshaya Center operator with the application fee. (Refer above)
Step 4: Get a receipt with application number from Akshaya centre operator.
Note: You will receive SMS to your registered mobile number regarding progress of domicile certificate application.
Step 5: Visit Akshaya centre after getting  "certificate issued" SMS on your mobile number.
Step 6: You can download & print your domicile certificate. 
Apply Domicile certificate online in e-District Portal
Follow the below mentioned steps to apply certificate through the e-District portal.
User Registration
Step 1:Visit homepage of e-District Kerala website.
Step 2: To avail certificate services in e-District Kerala portal, you need to register in this portal. Click on New portal user creation option.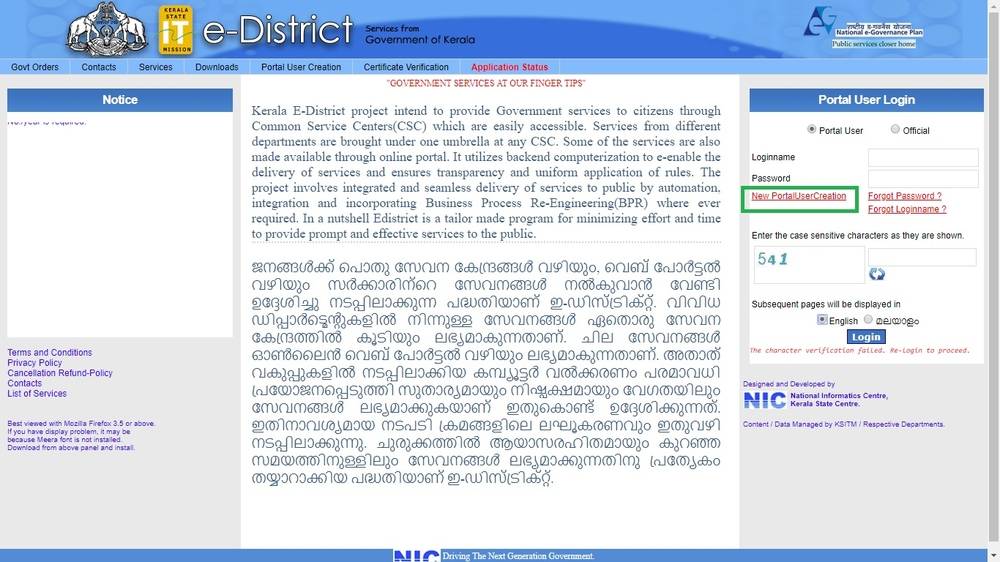 Step 3: In the next page you need to enter details.
Enter your details such as Name, DOB, Place, District, Mobile number, Gender, House Number, Locality & Aadhar Number

Select your login name & password.

Select any one Password recovery question & write an answer for this question. If you forget your password, e-portal will identify you with this information & you can recover your password.
Step 4: Enter the case-sensitive characters as they are shown. You need to click on validate at first, if all the information entered is correct you can click on register.
Step 5: Once the registration is completed, you can login into the e-district portal using your username and password.
One Time Registration
You need to do one time registration before applying certificate.
Step 6: One time registration can be done by clicking the menu 'one-time registration'. You need to enter all details & click on duplicate button.
Duplicate section will find out if you have already registered through Akshaya Centers & you can pick all details. After successful completion of duplicate check, the 'submit' button will be enabled.
Step 7: Now click on submit button. The registered details can be edited later using 'Edit Registration'.
Step 8: Click Applicant registration the link will go to next page. Click on "Submit".
Step 9: Once the registration completed, select "apply for certificate" and then click on get started.
Follow the below 3 stage process to apply online.
Application Detail Section
Step 10: You need to enter your e-District register number.
Step 11: Select certificate type as Domicile certificate. You have to select a certificate purpose from the drop-down menu.
Step 12: Provide your name and select self from the relationship drop down menu.
Step 13: After clicking, you will be directed to the "attach document" section.
Attachment Section
Step 14: In this section, you have to upload documents mentioned above.
Note: You can only attach PDF documents and it should be 100KB or lower.
Step 15: Once you have uploaded all the documents, you can make payment. Go through the entered detail and select Payment.
Registration Number

Certificate Type

Total Amount to be paid

Payment Section
Step 16: Mode of payment of the fee is given here:
Net banking

Debit card payment

Credit Card Payment

Cash-card prepaid 

Wallets

IMPS
Step 17: After successful payment off fee you will be redirected to the next page. Now you can take print out of this receipt and application.
Status of application
You can check the status of your application in "transaction history" on the left tab.You will receive SMS to your registered  mobile number regarding progress of Residence certificate application.
Download Certificate
Step 18: After receiving "certificate issued" SMS on your mobile number login into e-District portal & take a print out of your certificate.
---
Income Tax eFiling
We have made the Income Tax eFiling, simple and easy. File your income tax return online with the dedicated Tax Experts support from IndiaFilings.
---
IndiaFilings.com (ERI ID: ERIA100945) is an Income Tax Department authorised eReturn Intermediary.
---
---