Apollo Clinic Franchise
Home
»
Learn » Business Startup » Apollo Clinic Franchise
Apollo Clinic Franchise
'Good Health for All'
In India, Franchising today is one of the most habitual business models which have been adopted by some of the most established companies. The Apollo Hospitals Group is swiftly emerging as India's largest healthcare chain, and it applies the concept of franchising to healthcare. Apollo Health and Lifestyle Limited (AHLL), one of the most ambitious initiatives of Apollo Hospitals, aims to build healthcare business over the country and establishing Apollo clinics on a franchise basis. Setting up an Apollo clinic franchise requires entering into an agreement with AHLL as the Franchisor. This article demonstrates the various aspects of the Apollo Clinic franchise, with a primary focus on its formation. Know more about Elements of Franchise Agreement
Objective of AHLL
Apollo Health and Lifestyle Limited (AHLL) is a wholly owned ancillary of the Apollo Hospitals Group, headquartered in Hyderabad.  Apollo Clinics was founded in 2002.
The primary objective of AHLL is to bring healthcare of international standards within reach of every individual.  To achieve this, AHLL is establishing a vast network of Apollo Clinics across the country.
Apollo Clinic at a Glance
As stated above, Apollo Clinics are integrated multi-speciality clinics run by AHLL and offers facilities for Specialist Consultation, Preventive Health Checks, Diagnostics and 24-hour Pharmacy. Consequently, most health care services are under one roof. Besides, the Clinic also instigate in a range of value-added services such as counselling on various lifestyle parameters.
Apollo Clinic vs Apollo Hospital
Apollo Clinic will be an independent entity.  Apollo Clinic will focus on primary health care. Apollo Hospitals mainly focus on secondary and tertiary care facilities. Both the entities Apollo Clinic and Hospitals will get benefit from the simple brand building (Apollo) and similar exercises (Healthcare). Hospital and Clinic would create synergy concerning referrals.
The Apollo clinic can able to refer customers for high-end diagnostics as well as tertiary care to the Apollo Hospitals. Hence the Apollo hospitals will get the benefit.

At the same time, the Apollo clinic will gain from referral income while retaining the customer.
Apollo clinic will not perceive any competition from the existing Apollo Hospitals and no two Apollo facilities (Clinic & Hospital) would be operating in the same territory as any other Apollo facility.
Need for Apollo Clinic Franchise
The importance of setting-up an Apollo clinic franchise is given here:
The size of the healthcare industry in our country is just 5% of the Gross Domestic Product (GDP) as compared to other countries.

A study conducted by a leading global consulting firm reveals that a significant part of the household income is spent on health care.

The healthcare industry in India will be expected to cross Rs.1000 billion in the next three years.
Apollo franchisor supports the franchisee (entrepreneur) with its name and also vast business knowledge. As a result, the entrepreneur will have the satisfaction of running his own business and the support of a well-known large healthcare organisation.
Basic Qualification for Apollo Franchisee
An ideal franchisee needs to have the following characteristics to become an Apollo Franchisee:
An individual should have a prior track record of running a successful business venture

A person has to devote a significant amount of his time to the clinic

She/he will have social standing; enjoy a good reputation and exhibit integrity

An individual will be genuinely interested in the healthcare sector

He will strictly abide by the guidelines provided by AHLL
Note: Individuals looking purely for productive utilisation of their space or building are not necessarily the right entrepreneurs and are likely to be discouraged.
Criteria of Infrastructure
The Apollo Clinic will require an area of about 4,000 square feet at ground floor level, and the location should preferably be close to a large residential area.
It is envisaged that the Apollo clinic will be on leased or rented premises. However, the applicant may also consider constructing a separate building, or purchasing existing buildings.
Medical equipment in the Clinic
An evocative description of the medical equipment in the Apollo clinic is given below:
Laboratory – Bio-Chemistry (auto analyser), Haematology (Cell counter) and Microbiology Radiology

Ultrasound Cardiology, X-ray and ECG

Colour Doppler and Treadmill Pulmonology

Spirometry Dentistry

Treatment Room for dressing, suturing
Licence Agreement
For officially nominate the entrepreneur as a Franchisee for Apollo Clinic, a licence agreement will be signed by AHLL. After receiving the licence of the agreement, the applicant can commence operation. The licence agreement is valid for five years.
Fee Structure
AHLL will charge an 'Initial License Fee' at the time of signing the Agreement. The validity of this license is five years, which is the tenure of the License Agreement. As royalty fee, AHLL will charge a % of the gross turnover of the clinic, which will be payable on a monthly basis.
Note: Initial License Fee and Operating License Fee may be revised at AHLL's discretion.
Investment
The Applicant will be responsible for the entire venture. Where requested, AHLL will assist the applicant in arranging a term loan from a bank.
The applicant interested in opening an Apollo Clinic franchise would be required to make an investment of INR 2 lakhs to 5 lakhs, in addition to a franchise cost of Rs. 100000.
Name for Apollo Clinic
The name and signage have been standardised and no deviation, beyond AHLL's stated guidelines, will be permissible. Every clinic will be called as Apollo Clinic
Locales of Operation
Apollo has enlisted the following locations for the project:
North Zone – Delhi, Haryana, Himachal Pradesh, Jammu And Kashmir, Punjab, Uttaranchal

South Zone – Kerala, Karnataka, Tamil Nadu

East Zone – Assam, Meghalaya, Mizoram, Tripura, Arunachal Pradesh, Manipur, Nagaland, West Bengal, Sikkim

West Zone – Gujarat, Rajasthan, Maharashtra, Goa

Central Zone – Chhattisgarh, Madhya Pradesh, Bihar, Jharkhand
Application Procedure
The applicant can apply for Apollo Clinic franchise by following many process such as Directly contacting head office through phone or online application or by sending application via post.
Apply through Phone
Anyone who is interested in becoming an Apollo franchisee can contact the Head of Franchise Business of Apollo Health and Lifestyle Limited (AHLL) directly by telephone.
On receiving the required information, the applicant will be required to fill out and submit a detailed Franchise Application Form.
Address for Contact
Apollo Health and Lifestyle Limited,
No. 1-10-60/62, 5th Floor,
Ashoka Raghupathi Chambers,
Begumpet, Hyderabad-500 016
Phone: +91-40-4904 7777
Apply Online For Franchise
Anyone who intends to start-up an Apollo Franchise can apply online through official website of Apollo Clinic.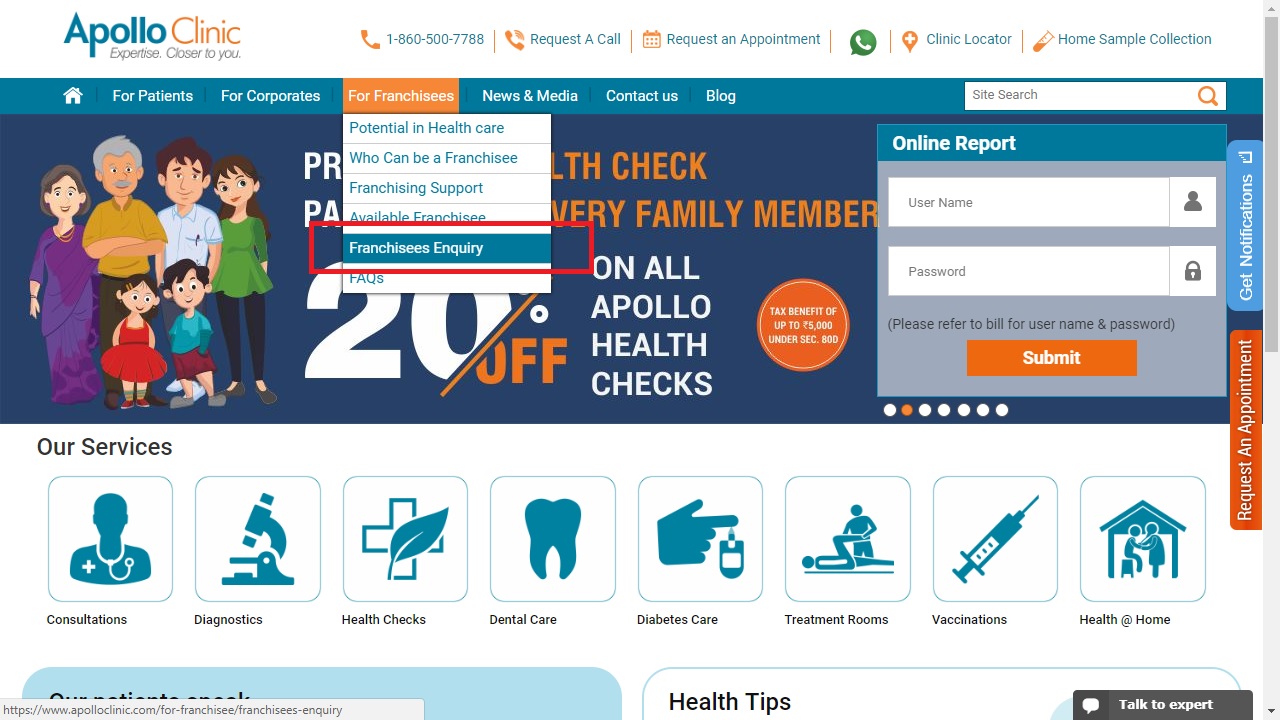 From the main page select the option 'For Franchisees and then click on Franchisee.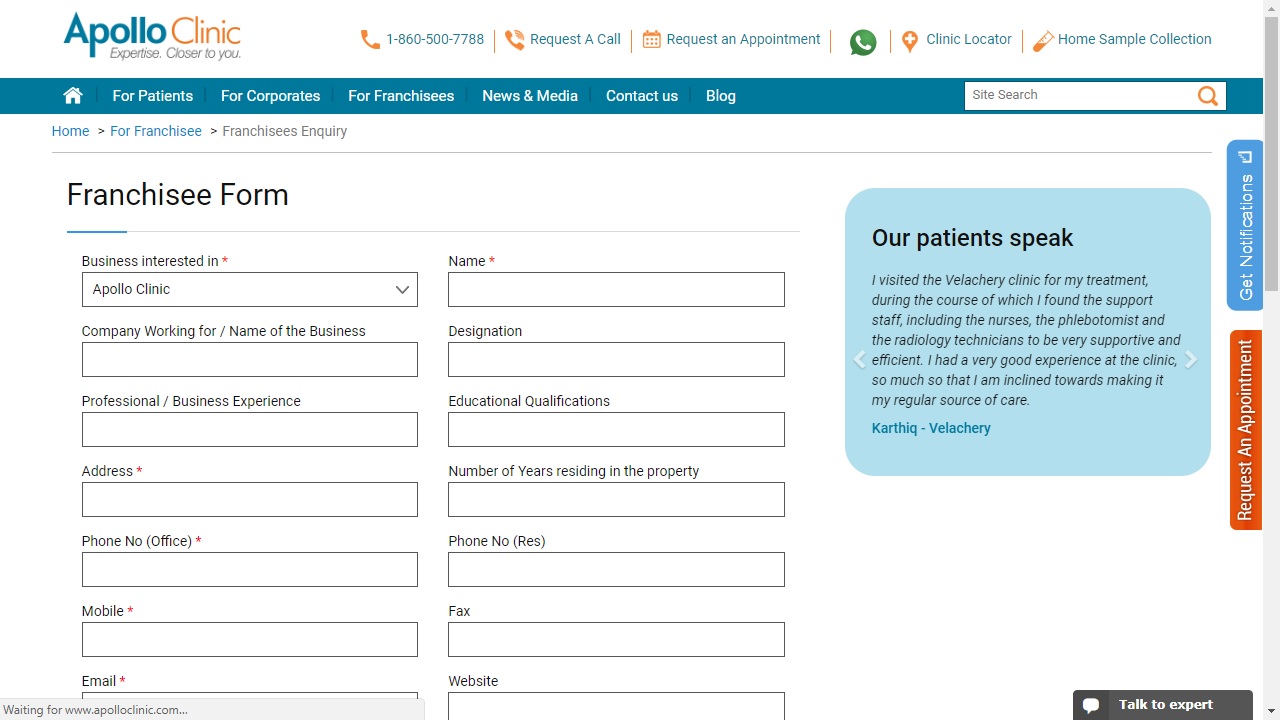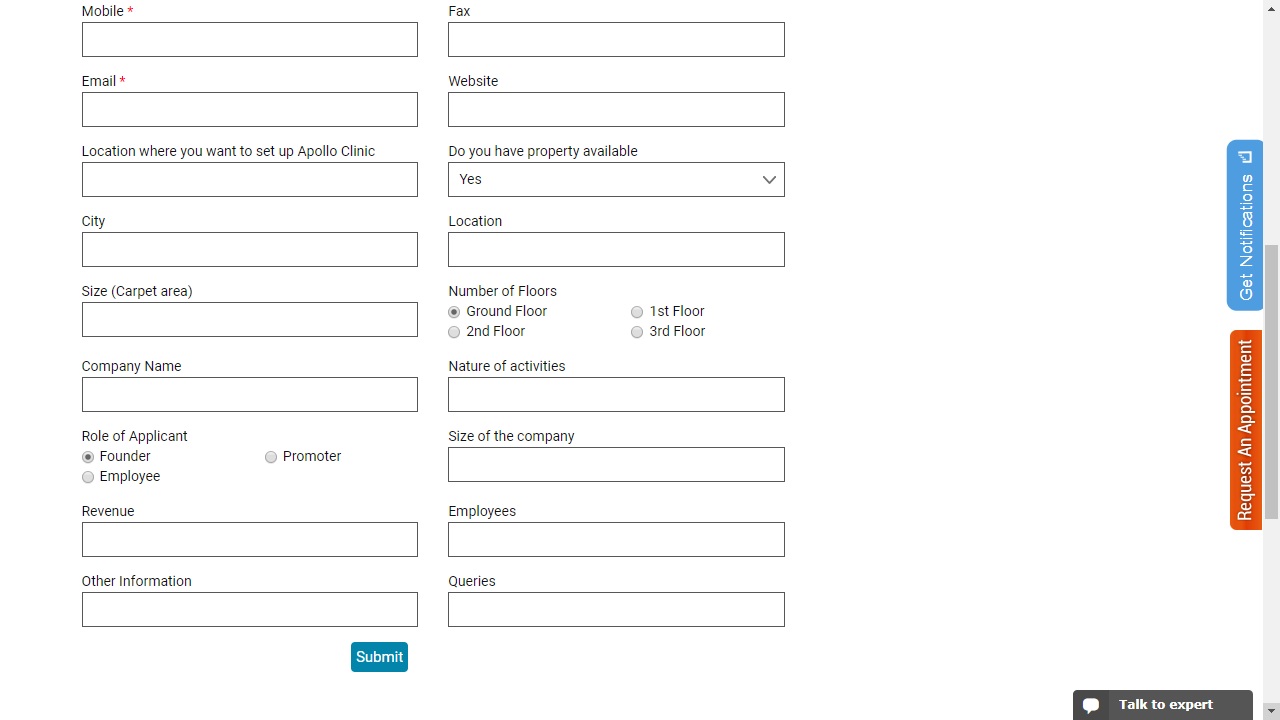 Fill up the application form with all mandatory details. After providing details click on submit button.
Apply Offline for Franchise
Franchisee can also apply offline method. Duly fill Franchisee Application Form and send it Head Office through a post. We have herewith attached Franchisee Application Form.
Apollo Franchise-Application-Form

AHLL Team Verification
A team from AHLL will analyse and discuss the details of the business and will also assess the applicant's ability to run Apollo Clinic.
Meeting with Senior Manager
If the profile is found suitable and after successful completion of the due diligence process the applicant has to attend a meeting with Apollo Senior Management at the corporate office in Hyderabad for final selection.
Signing MOU
Depending upon the applicant's conviction about the project and AHLL's assessment about applicant's ability to successfully take it forward, an MOU would be signed between AHLL and your group.
Pay Licence Fee
Applicant needs to pay a License fee (refer above). Fee payment will be followed by a Due Diligence conducted by AHLL to assess applicant's financial capabilities.
Form a Private Limited company
Applicant needs to form a Private Limited company to establish and operate 'Apollo Clinic'. Once this process has been completed, AHLL will sign a License agreement with your company to officially nominate you as a Franchisee for 'Apollo Clinic.'
If there are no significant issues, it is easily possible to commence operations within a time frame of 8-10 months from the date of the agreement.
Know more about Private Limited Company Registration
Post by Renu Suresh
Renu is experience content writer specialised in compliances and company rules.